The FIM, IRTA, MSMA and Dorna Sports can announce a new Sporting Format to be introduced for the FIM MotoGP™ World Championship from 2023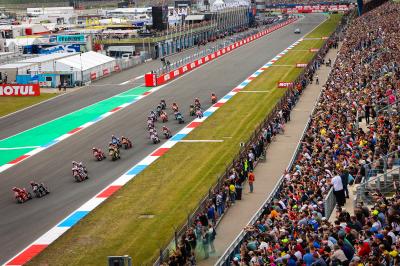 In Sprint races, points will be awarded as follows:
– 1st Position: 12
– 2nd Position: 9
– 3rd Position: 7
– 4th Position: 6
– 5th Position: 5
– 6th Position: 4
– 7th position: 3
– 8th position: 2
– 9th position: 1
Sprint races will not determine the grid for the Grand Prix race. Riders must be free to race on Saturday, without the need to consider their Sunday grid position. The grids for both the Sprint race and the Grand Prix race will be set from qualifying, which will retain its Q1-Q2 format.
The introduction of Sprint Races allows every day of a race weekend to offer fans and broadcasters the best possible experience on track and off, with track action on Friday, Saturday and Sunday focused on maximum spectacle to show off the best of MotoGP™. In addition, the new format will provide increased engagement opportunities for fans, broadcasters and media across the event and increase the profile of the MotoGP™ class without reducing that of Moto2™ and Moto3™.
The MotoGP™ class will have two practice sessions on Friday, which will be of a longer duration. The combined timesheets from these sessions will determine the direct entrants to Q2, guaranteeing Friday increased significance and exposure.
On Saturday morning, the MotoGP™ class will have one 30-minute Free Practice session (similar to the current FP4) followed by Q1 and Q2 for qualifying. The Sprint Race will then take place at 15:00, creating an incredible line-up of MotoGP™ track action on Saturday.
Sunday will remain a spectacle for fans and broadcasters, with the Moto3™, Moto2™ and MotoGP™ Grand Prix races. The target will also be to have MotoGP™ as the last race on Sunday at each event, allowing for an improved podium ceremony, on-track celebrations and the possibility of fan track invasions at each venue.
MotoGP™ sessions will be the last of each block, further standardising the format of the race weekend and maintaining the same order throughout each event. Moto3™ will be followed by Moto2™, followed by MotoGP™. – www.motogp.com