Whilst speaking with Italy's RAI, the 2022 World Champion opened up on a wide variety of topics including what number he'll use this season.
It's the big question that circles at this time of the year: will the MotoGP™ World Champion don the number one?
After both Joan Mir (Repsol Honda) and Fabio Quartararo (Monster Energy Yamaha) opted to remain with their trusted numbers following World Championship success, now all eyes switch to Italy's Francesco Bagnaia (Ducati Lenovo Team) following his 2022 premier class title.
Speaking at the Valencia Test in November, the 26-year-old admitted he has "always been fascinated" by riders who opted to use the number 1 in the past and he then stirred up yet more intrigue when he used a number one plate at Valentino Rossi's '100km of Champions'.
A month on and Bagnaia has admitted he's still undecided over whether he should use his tried and tested 63 or become the first MotoGP™ World Champion since Casey Stoner in 2012 to use the famous number one.
During a television appearance with Italy's RAI, Bagnaia revealed that he's set himself a looming deadline on what number to run in 2023: "I've changed my mind quite a few times, so I've decided that on Tuesday, right before the photo session with the 2023 bike, I will arrive with both numbers and I will stick on what I feel in that exact moment. Right now, I still don't know which one I will choose between the World Champion's number 1 and my number 63."
The now two-time World Champion was asked about what life has been like since clinching the ultimate prize in motorcycle racing, with Bagnaia saying the tag of MotoGP™ World Champion hasn't been the thing he's enjoyed the most: "Every now and then I think about the fact of being World Champion, but more than anything else I get excited when I think about the fact that I'm the fastest man in the world on a motorbike. 
"I made a promise to Ducati the day I signed my contract: I knew we'd become World Champion together," said Bagnaia when asked about his relationship with the Bologna factory. "I knew that by putting everything together, we would be able to achieve great results. The 2023 bike will be different but it'll be an evolution, not a revolution. While the 2022 Ducati, well, I hope it will end up in my house!"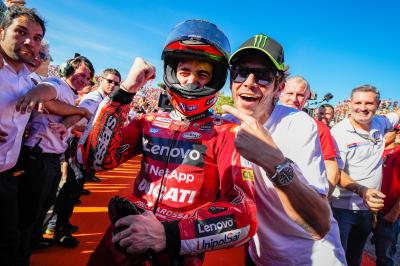 As well as his obvious connection with the Italian marque, Bagnaia also touched on the importance of his relationship with nine-time World Champion Valentino Rossi and the pivotal role he played in his 2022 title success: "I asked Valentino to follow me as a coach. I knew that it would be difficult for him between racing in the car and his baby daughter, but at every race of the season we spoke on the phone and I was able to ask him many things. When he came to the circuit, I would always ask him to go and watch me on track so he could explain what was happening and what I could improve on. 
"He's always been the idol of our family. He taught me to remain calm, to try and enjoy every moment and to celebrate when the time is right. His tranquility and his modesty are the most important things."