Thanks to a formidable performance at the Shell Malaysia Motorcycle Grand Prix, Maverick Viñales (Monster Energy Yamaha MotoGP) picked up his second win of the 2019 season in emphatic style. The Spaniard raced clear of a recovering second-place Marc Marquez (Repsol Honda Team) as Andrea Dovizioso (Ducati Team) fought off Valentino Rossi (Monster Energy Yamaha MotoGP) for P3.
Starting from P11 – his worst qualifying since Mugello 2015 – Marquez needed a lightning start. Both he and Dovizioso, the Italian starting P10, did exactly that as they blasted into Turn 1. Jack Miller (Pramac Racing) launched from P4 and managed to grab the lead on the opening lap, but it was a bad start for polesitter Fabio Quartararo (Petronas Yamaha SRT) as the Frenchman fell to P7, Marquez getting the better of him immediately.
It didn't take long before Viñales had snatched the baton from Miller though, the Yamaha sliding up the inside of the Ducati at Turn 11 as Marquez passed Franco Morbidelli (Petronas Yamaha SRT) for P4 on the opening lap. A frantic first lap wasn't over though as Dovizioso and Miller battled for P2 at Turn 14 and Turn 15. The Desmosedici duo ran slightly wide at the final corner and sniffing a chance, Marquez pounced and sat up Miller – but the Australian grunted past Marquez heading into Turn 1 on Lap 2. The jostling was only helping Viñales' cause though, the number 12 rider raced to a 0.6 second lead as he set a 1:59.9 on Lap 2 to unleash himself from the MotoGP™ freight train. Marquez knew he had to make up ground quickly and on Lap 3 the World Champion was past Miller for P2, but it was going to take some doing to reel in Viñales.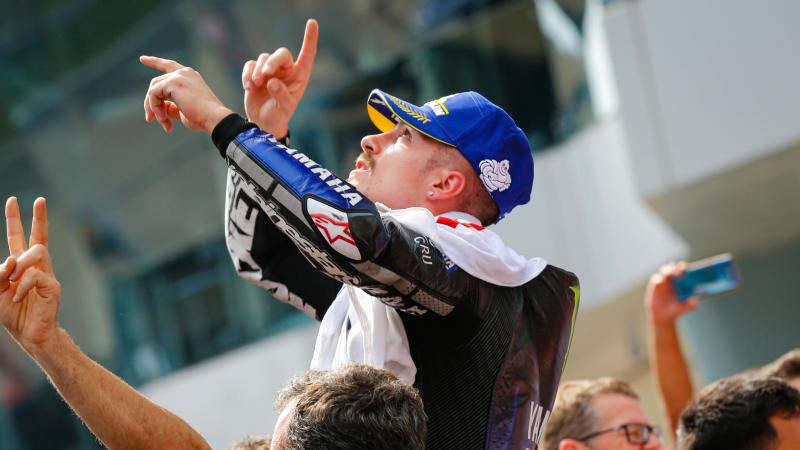 "I would like to dedicate this race to Munandar" 03/11/2019
With Viñales flying and Marquez chasing, the battle for the final podium spot was well and truly on. Dovizioso grabbed P3 from Miller on Lap 4 and The Doctor was also going great guns to challenge Miller too. After a couple of goes, Rossi dispatched Miller at Turn 9 as the Australian saved a crash – was the Pramac man hitting tyre troubles in the soaring heat? Well, shortly after, things got heated between Miller and Alex Rins (Team Suzuki Ecstar) at the final corner as the two made contact. At the front, Viñales was holding a 1.4/1.5 lead over Marquez as Dovizioso and Rossi were unable to keep tabs on the Honda. It quickly became a battle for the final podium spot between the two veteran Italians, with Rossi finding it tough going to make a pass stick due to Dovizioso's superior straight-line power.
While Miller slipped back into the clutches of Petronas Yamaha SRT duo and Johann Zarco (LCR Honda Idemitsu), Rins was making forward progress. Viñales was comfortable out front, Marquez wasn't being troubled in P2 but the P3 battle was on. Dovi vs Rossi, Rins closing in. With six laps to go Rins had cut a two-second gap down to under a second, with Rossi again unable to make a late, lunging pass at Turn 9 stick on Dovizioso. Heading onto the final couple of laps there was nothing to choose between Dovi, Rossi and Rins for P3. Viñales was now three seconds clear of Marquez as the duo rounded the final lap to claim tremendous respective results. Viñales untouchable in Malaysia, Marquez claiming another top-two finish.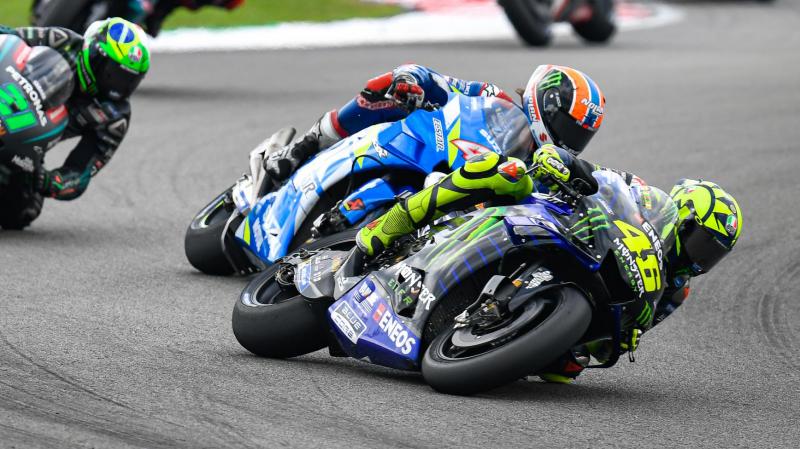 Round 18: MotoGP™ Shell Malaysia Motorcycle Grand Prix 03/11/2019
Rossi's wait for a podium goes on after being unable to get the better of Dovizioso in Sepang, but it wasn't through a lack of effort. Rins bridged the gap to the Italians but couldn't ultimately mount a challenge for a rostrum. It wasn't the Sunday Petronas Yamaha SRT would have been looking for as Morbidelli and Quartararo picked up P6 and P7 respectively. Miller slipped back to P9 to finish as the second Ducati, Danilo Petrucci (Ducati Team) notched up P9. Closing out the top 10 was Joan Mir (Team Suzuki Ecstar) after the Spaniard was involved in an incident with Zarco at Turn 14. With four laps to go, while battling with Miller, Mir made a lunge up the inside of the Frenchman which led to the Honda rider crashing. Mir was judged to have been at fault as the rookie was handed a long-lap penalty.
After outstanding weekends in Australia, Malaysia wasn't so fortunate for Andrea Iannone (Aprilia Racing Team Gresini) and Cal Crutchlow (LCR Honda Castrol). Both riders crashed during the race, both riders were thankfully ok.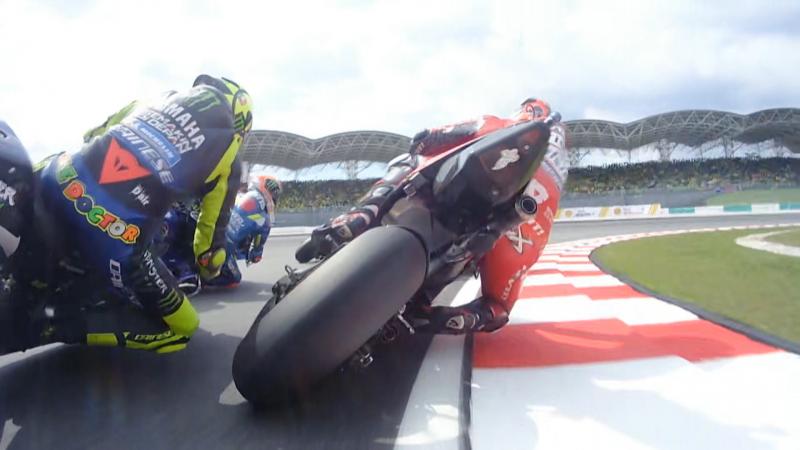 FREE: Marquez from 11th to 2nd on lap 1 in Malaysia 03/11/2019
A stunning performance now sets Viñales and Yamaha up for a phenomenal end to the 2019 campaign in Valencia, with Marquez picking up another record – the most points scored in a premier class season. One last race weekend awaits in two weeks' time as the MotoGP™ riders aim to end the season on a high, as well as giving themselves a nice springboard into 2020.
Top 10:
1. Maverick Viñales (Monster Energy Yamaha MotoGP)
2. Marc Marquez (Repsol Honda Team) + 3.059
3. Andrea Dovizioso (Ducati Team) + 5.611
4. Valentino Rossi (Monster Energy Yamaha MotoGP) + 5.965
5. Alex Rins (Team Suzuki Ecstar) + 6.350
6. Franco Morbidelli (Petronas Yamaha SRT) + 9.993
7. Fabio Quartararo (Petronas Yamaha SRT) + 12.864
8. Jack Miller (Pramac Racing) + 17.252
9. Danilo Petrucci (Ducati Team) + 19.773
10. Joan Mir (Team Suzuki Ecstar) + 22.854