Andrea LaCorte and his Vitamina Cetilar team (ITA) were crowned champions of the M32 European Series opener. They kept the pedal down all weekend long and posted a perfect scorecard here in Riva.
Garda was glorious this weekend. This lake is the gift that keeps on giving. With a snowcapped mountain backdrop, the M32 fleet was given two days of the famous Ora southerly heavy wind, then the Sunday finale began with a tactical, light-wind Pelèr. It was the perfect way to launch the M32 European Series.
Behind the Italians' picket fence was a heated battle between Harold Vermeulen's Leeloo (NED) and Hakan Svensson's Cape Crow Vikings (SWE). It was a classic fencing match; the winner was decided in the final race, when the Ora and sunshine showed up to illuminate the action. The Vikings looked quite strong at first, well ahead by the first leeward gate. But don't blink: in the M32 class, a strong lead is never safe. A sneaky Leeloo powered past the Swedes and also put Peter Warrer's Warrer Racing (DEN) between the two silver contenders. By the finish line, the Vikings were shut out the back. So in the end, the overall second position goes to Leeloo with 40 points and the Vikings round out the event podium with 41 points.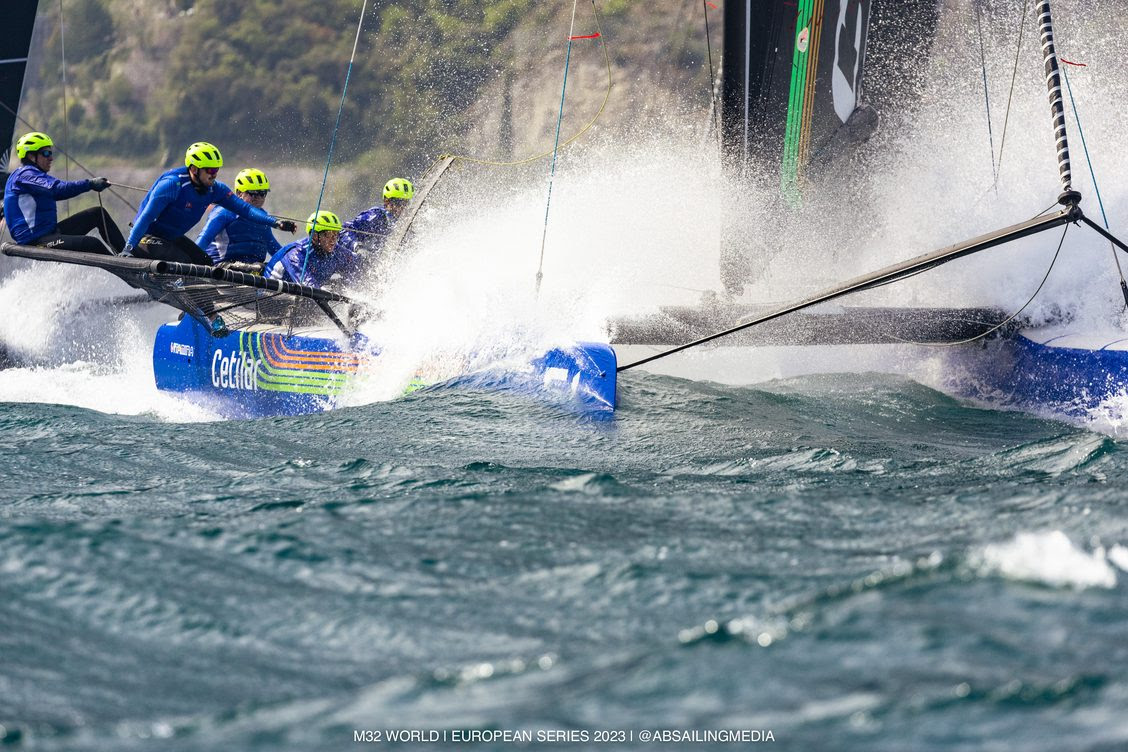 "The racing here in Riva del Garda is always great. This weekend it's still a bit cold—snowy in the mountains—so the other teams are coming for the next events with the better weather," said Matteo DeLuca.
Vitamina won 15 out of 15 races. DeLuca defined their key to success saying, "mostly because of our experience in Miami this winter. The racing is very tight. We arrived a bit more trained than the rest of the fleet."
Sailors are now headed home to Sweden, the Netherlands, Italy, and Denmark. But with espresso, wine, prosciutto, pasta, and parmesan each making an appearance during the shoreside festivities, are they already wishing they were back in Riva del Garda?
"The M32 is the obvious choice for the sporty sailor," said Peter Warrer. "We have four regattas in Riva del Garda this year. You cannot find a better venue anywhere in the world."
13 knots upwind. 27 knots downwind. Let's keep pushing!
The curtain of the European Series is officially open! The stage is set. What's next? Join M32 for three more Garda regattas this summer. One event each month. Meanwhile, in the United States, the fleet races three events in Newport for the Midtown Cup. Then the climax of the season: the M32 World Championship will be held in Newport, September 25 through October 1.