The supremacy of Marc Marquez, Lorenzo, Rossi and Pedrosa from 2013-2016 has given way to a ferociously unpredictable World Championship
Times have changed in MotoGP™. Over the last few seasons, we've witnessed numerous riders win a race in the premier class. A glance at the archives is enough to remind us that up until five years ago, things were very different.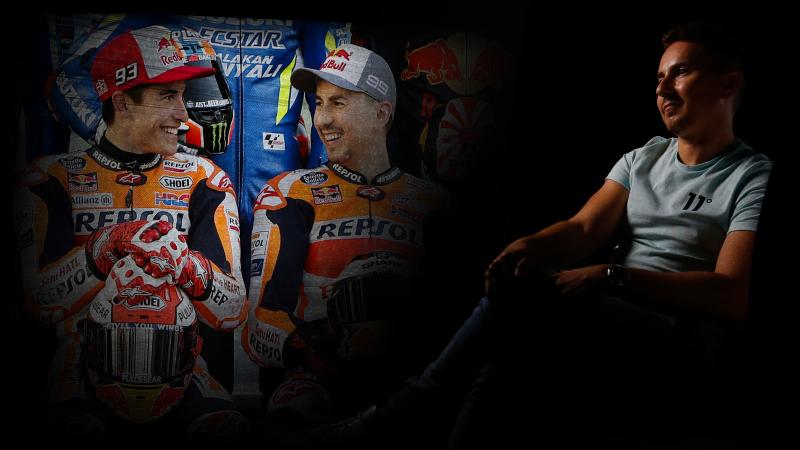 Lorenzo in-depth: I'm surprised by the risks Marquez takes
After the departure of two-time World Champion MotoGP™ Legend Casey Stoner, which paved the way for the astonishing emergence of Marc Marquez (Repsol Honda Team), a total of 61 Grands Prix were dominated by four riders between 2013-2016.
It was a scintillating streak that was ended by Jack Miller (Ducati Lenovo Team) on that famous Assen Sunday. And since the Australian's triumph, 17 other riders have climbed onto the coveted top step of the podium, most for the first time. The point, then, is clear: MotoGP™ is more competitive than ever.
The 'Fantastic 4' and their streak of 61
Marc Marquez landed in MotoGP™ with an almighty bang. Everyone knew from very early on that we were being treated to seeing a very, very special talent, and in 2013, the number 93 claimed the first of his six premier class titles to date. Marquez took six wins to Jorge Lorenzo's eight, with Dani Pedrosa winning three times.
Marquez backed his 2013 display up with 13 victories in 2014, winning the opening 10. Five more would follow in 2015, as Lorenzo and Valentino Rossi locked horns in the title battle. Lorenzo won seven races to Rossi's four.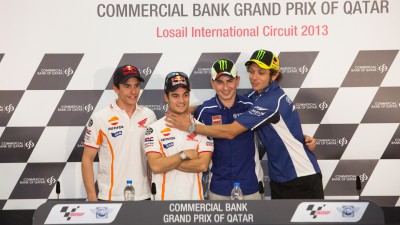 Marquez won two more races before Miller ended the streak in 2016, with the now eight-time World Champion picking up 26 wins in those 61 GPs. Lorenzo racked up 20, Rossi claimed nine and Pedrosa tallied up six. A dominant era for four of the greatest riders we've seen grace our sport.
From Miller's breakthrough to Lorenzo's Yamaha farewell
That Dutch TT victory in 2016 for Miller will forever go down as one of the most memorable MotoGP™ races of all time. In the same year, following Miller's win, Andrea Ianonne (Austria), Cal Crutchlow (Czech Repsublic, Australia), Maverick Viñales (Great Britain), and Andrea Dovizioso (Malaysia) won races. Marquez, Lorenzo, and Pedrosa won again before the end of the season, bringing the total number of winners in 2016 to nine. Rossi won in Jerez and Catalunya, before Miller's triumph.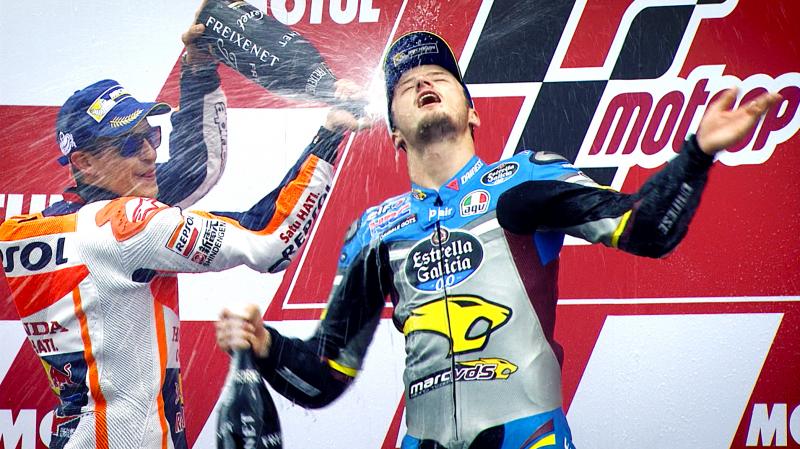 At the halfway point of the 2016 MotoGP™ World Championship take a look back at some of Jack Miller's key moments.
Victory in Valencia saw Lorenzo bid farewell to a phenomenal Yamaha career before moving to Ducati. After a few seasons which were conquered by Honda (Marquez, Pedrosa) and Yamaha (Lorenzo, Rossi), and the switching of tyre suppliers from Bridgestone to Michelin, there was a heavy scent that something had changed.    
Rossi's last and an unprecedented 2020
Little did we know at the time, but Rossi's Assen victory in 2017 would be his last in MotoGP™. And we'd have to wait until the 2019 Americas GP for the sequence of different winners to fire back into life, thanks to Alex Rins' (Team Suzuki Ecstar) success in the United States. A few weeks later, Danilo Petrucci collected an emotional maiden Grand Prix victory at Mugello.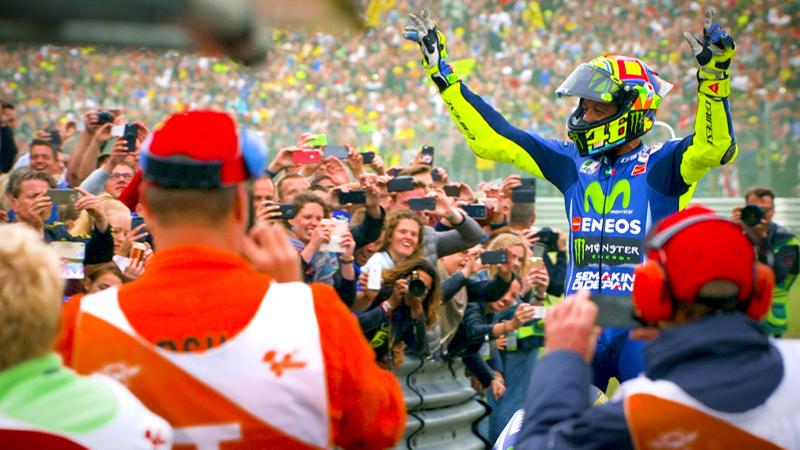 However, the real turning point came in 2020. A year defined by Marquez' season-ending injury in Jerez and Covid-19. Five riders won for the first time in the premier class, including Fabio Quartararo (Monster Energy Yamaha MotoGP), Brad Binder (Red Bull KTM Factory Racing), Miguel Oliveira (Red Bull KTM Factory Racing), Morbidelli, and eventual World Champion Joan Mir (Team Suzuki Ecstar).
Every factory in the hunt
The 2020 campaign saw the powerful emergence of MotoGP™'s youngest competitor: KTM. The Austrian factory won three races in 2020 and went on to win another two times in 2021. Quartararo put Yamaha back on top of the world for the first time since Lorenzo's 2015 title win, but the Constructor and Team crowns would go to Ducati.
Jorge Martin (Pramac Racing) and Francesco Bagnaia (Ducati Lenovo Team) took their first MotoGP™ victories in Styria and Aragon respectively, bringing the sequence of different winners to that magic number 18.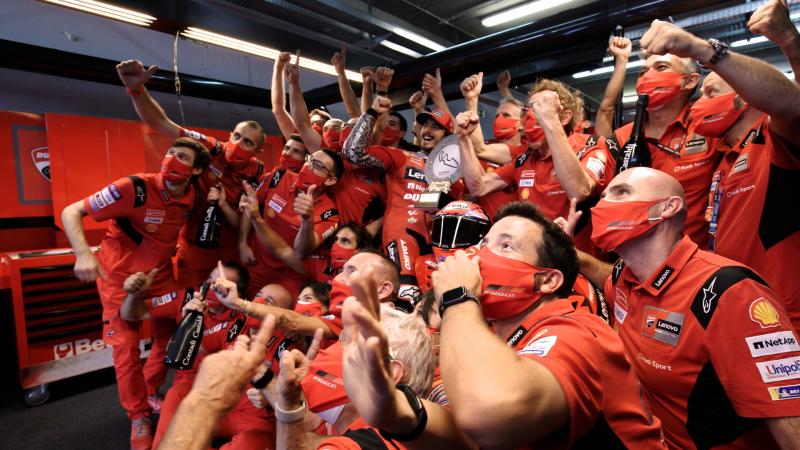 UNSEEN: "We did it!" – Flawless Bagnaia the toast of Ducati
In the last five years, the Bologna bullets have become the main threat to MotoGP™ mainstays Honda and Yamaha, while Suzuki produced a stunning 2020 to put themselves firmly in that bracket too.
Aprilia have struggled to regularly compete at the front since their return to MotoGP™ in 2015, but that changed in 2021. Aleix Espargaro's Silverstone podium was the highlight, and with Maverick Viñales joining the ranks, 2022 should be even better for the Noale factory.
Many bullets in the chamber
And if that wasn't enough, there remains a pool full of talented riders hoping that 2022 will be their year to make a splash. The likes of Johann Zarco (Pramac Racing), Pol Espargaro (Repsol Honda Team), Aleix Espargaro and Enea Bastianini (Team Gresini Racing MotoGP) – all podium finishers in 2021 – are chasing their first victories in motorcycle racing's top class. And let's not forget the new rookies entering the fray, as well as every other rider on the grid. They're MotoGP™ riders for a reason, and counting anyone out of a race win would be naïve.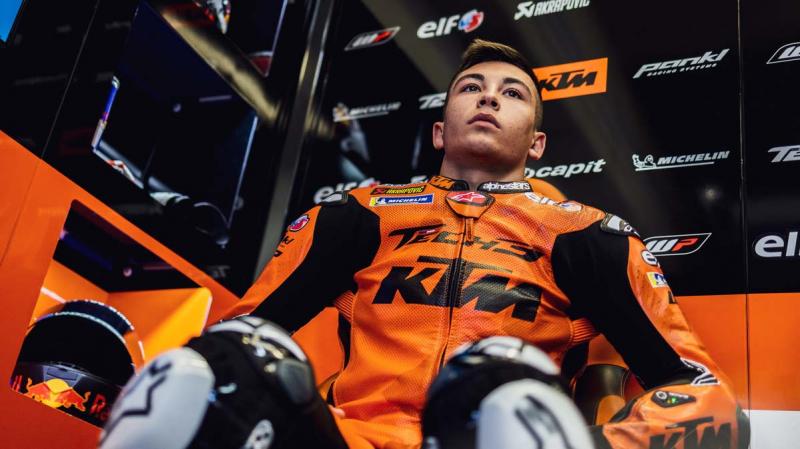 "Best day of my life" – 2022 rookies react to MotoGP™ debuts 
The relentless hegemony of the 'Fantastic Four' has given way to a new, enthralling era of MotoGP™. Mir and Quartararo have won the last two titles, both for the first time in the premier class. Who says there won't be a third to replicate the Spaniard and Frenchman's recent achievements? After all, there's plenty of candidates. Now, all that remains to ask is this: who will become the 19th different winner since 2016? – www.motogp.com