Sweden's Olympic discus champion Daniel Stahl produced a championship record of 71.46m with his last throw to reclaim the world title and Sha'Carri Richardson of the United States also set a championship 100m record of 10.65 – from lane nine – to earn her first global title.
In the two other finals on day three, Burkina Faso's Hugues Fabrice Zango claimed his first global triple jump title with a best of 17.64m and Grant Holloway of the United States won his third consecutive 110m hurdles gold in a season's best of 12.96.
Ceh's last effort trumped by Sweden's Olympic champion 
The men's discus produced an extraordinary finale as Slovenia's defending champion Kristjan Ceh, whose early lead was eclipsed by Stahl's fourth-round effort of 69.37m, regained the gold medal position with his last effort of 70.02m – only for Stahl to add a second gold to the one he won in Doha four years ago with the final throw of the competition.
As the virtual full-house crowd that had assembled in the newly built stadium erupted in appreciation, the giant Swede stood impassively, acknowledging the plaudits, while Ceh smiled ruefully before applauding his rival's efforts.
Meanwhile Lithuania's 20-year-old European champion Mykolas Alekna, whose father Virgilijus won three Olympic discus titles, proved once again that he is a chip off the old block as he took gold with a best of 68.85m, with Australia's Matthew Denny fourth with a national record of 68.24m.
Richardson rocks the arena from lane nine
The look of shock on the face of the 23-year-old from Dallas, Texas took a long, long time to wear off as one after another of the women's 100m finalists she had just beaten came over to congratulate her on her first global victory.
But when the realisation sunk in, an athlete who had suffered such disappointment in connection with the last World Athletics Championships behaved as if electrified.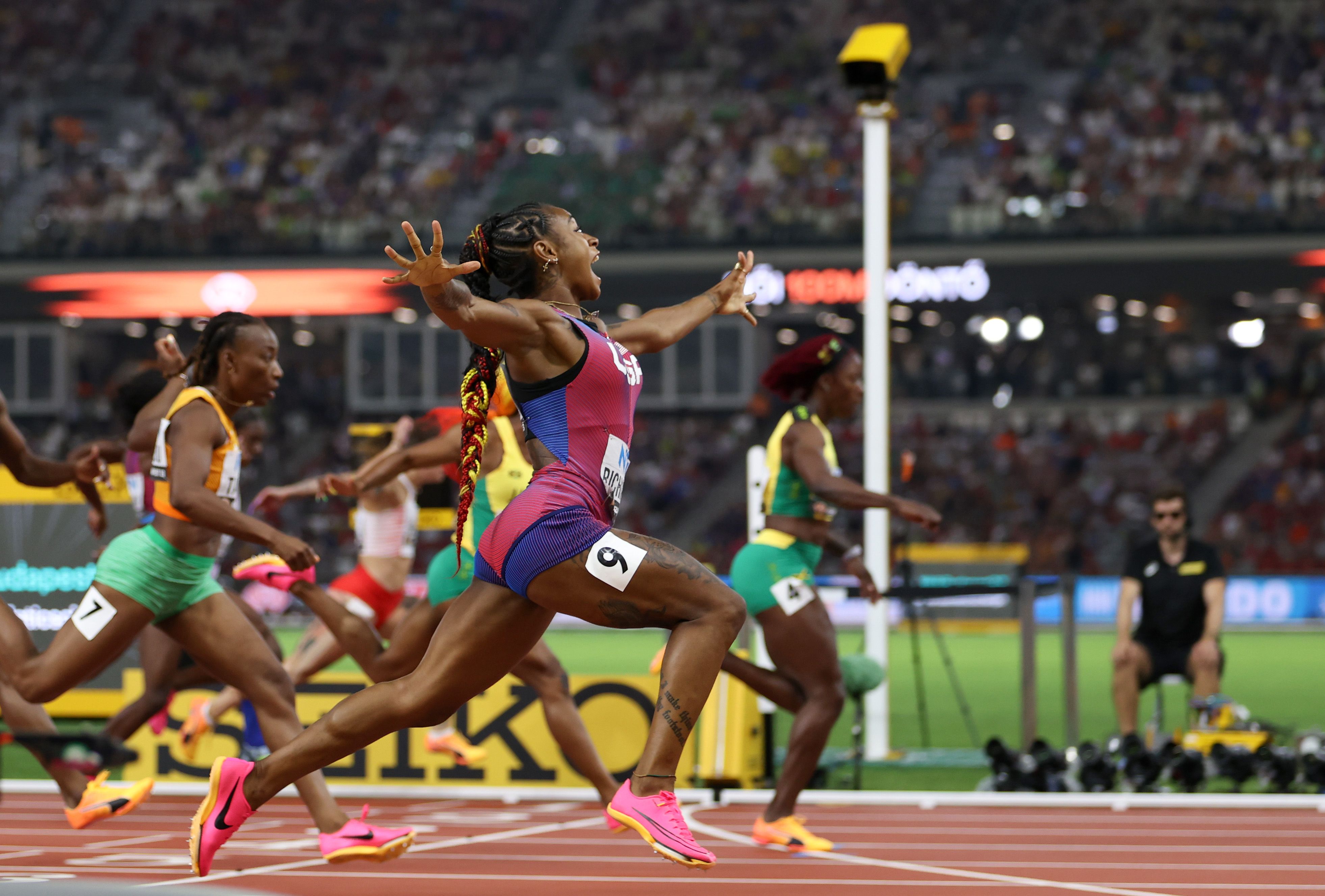 Sha'Carri Richardson wins the 100m at the World Athletics Championships Budapest 23 (© Getty Images)
All the focus had been at the centre of the field, where Jamaicans Shericka Jackson and Shelly-Ann Fraser-Pryce – the latter seeking a victory that would have given her six individual world 100m titles, matching the record haul of Sergei Bubka in the pole vault .
But as Jackson won that particular contest, the 23-year-old US sprinter, who had earned a non-automatic qualifying place after finishing third behind Jackson and the Ivory Coast's Marie-Josee Ta Lou in the semi-finals despite clocking 10.84, ran her own fluent and ultimately successful race from lane nine to win in a championship record of 10.65.
Jackson, who will later defend her world 200m title here, took silver in 10.72, with the 36-year-old Fraser-Pryce adding another medal to her collection, this time bronze, after clocking 10.77 to finish one place ahead of Ta Lou, who clocked 10.81.
Jackson and Ta Lou had qualified joint-fastest, equal to the thousandth on 10.79, the fastest time ever in a World Championships women's semi-final.
Holloway hurries to third 110m hurdles title in a row
Grant Holloway of the United States earned his third consecutive 110m hurdles in the exuberant fashion we have come to expect, getting away to an excellent start and pulling inexorably away from the field to finish in a season's best of 12.96.
Silver went to the Jamaican who beat him to Olympic gold in Tokyo, Hansle Parchment, who finished strongly to clock 13.07, 0.02 clear of Holloway's teammate Daniel Roberts.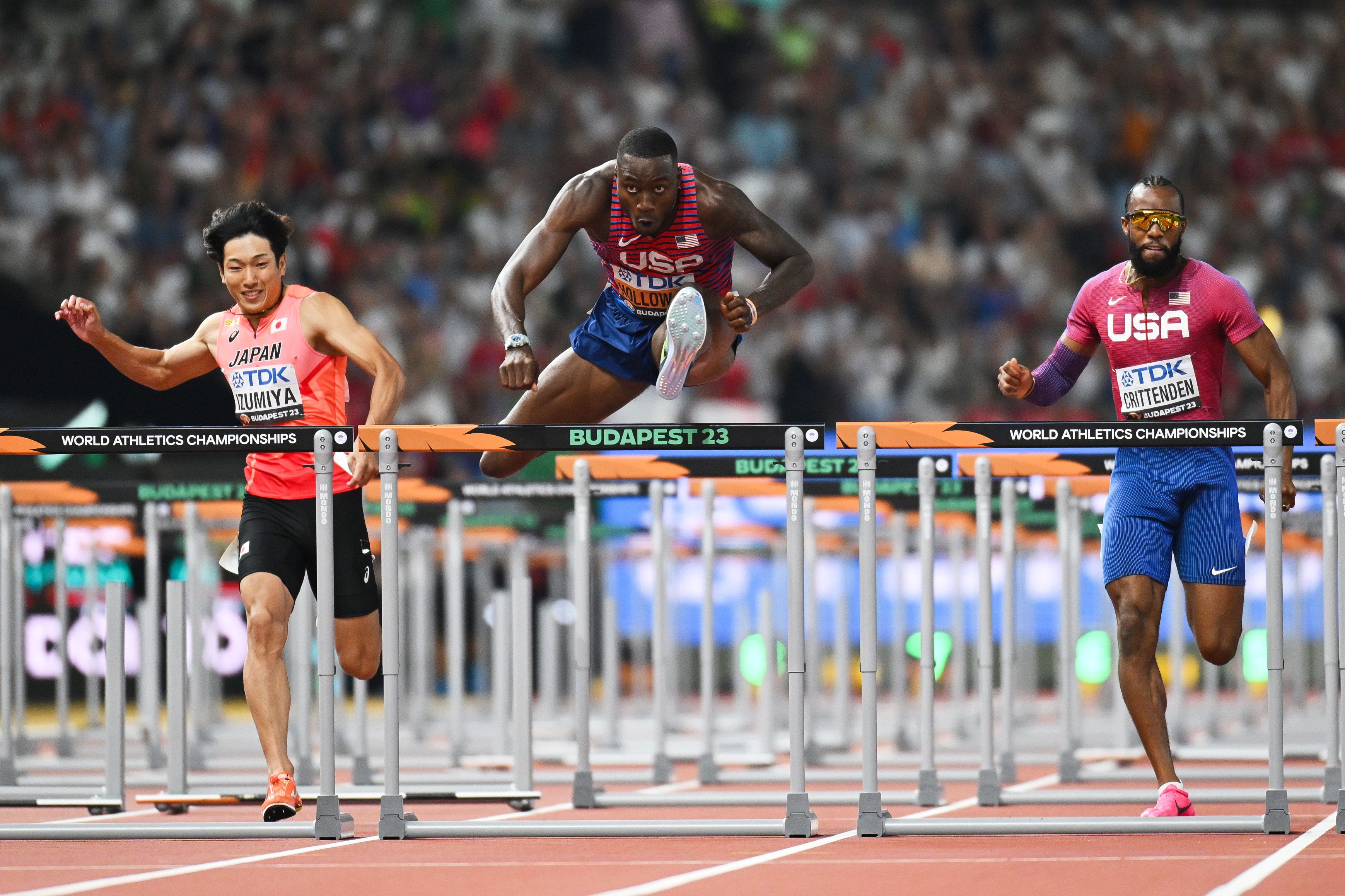 Grant Holloway wins the 110m hurdles at the World Athletics Championships Budapest 23 (© Getty Images)
Parchment, tall and powerful, was the only stop to a US 1-2-3, with Freddie Crittenden finishing fourth in a season's best of 13.16.
Zango earns first global gold with late effort 
The men's triple jump saw Hugues Fabrice Zango complete his world medal collection with a gold to add to the bronze he won in Doha in 2019 and the silver secured at last year's event in Oregon.
The 30-year-old France-based athlete, who earned Olympic bronze in Tokyo, established an early lead of 17.37m before Cuba's Lazaro Martinez took over top spot with 17.41m. Martinez's team-mate Cristian Napoles then moved into silver position with a personal best of 17.40m before Zango returned to the gold standard with a penultimate effort of 17.64m.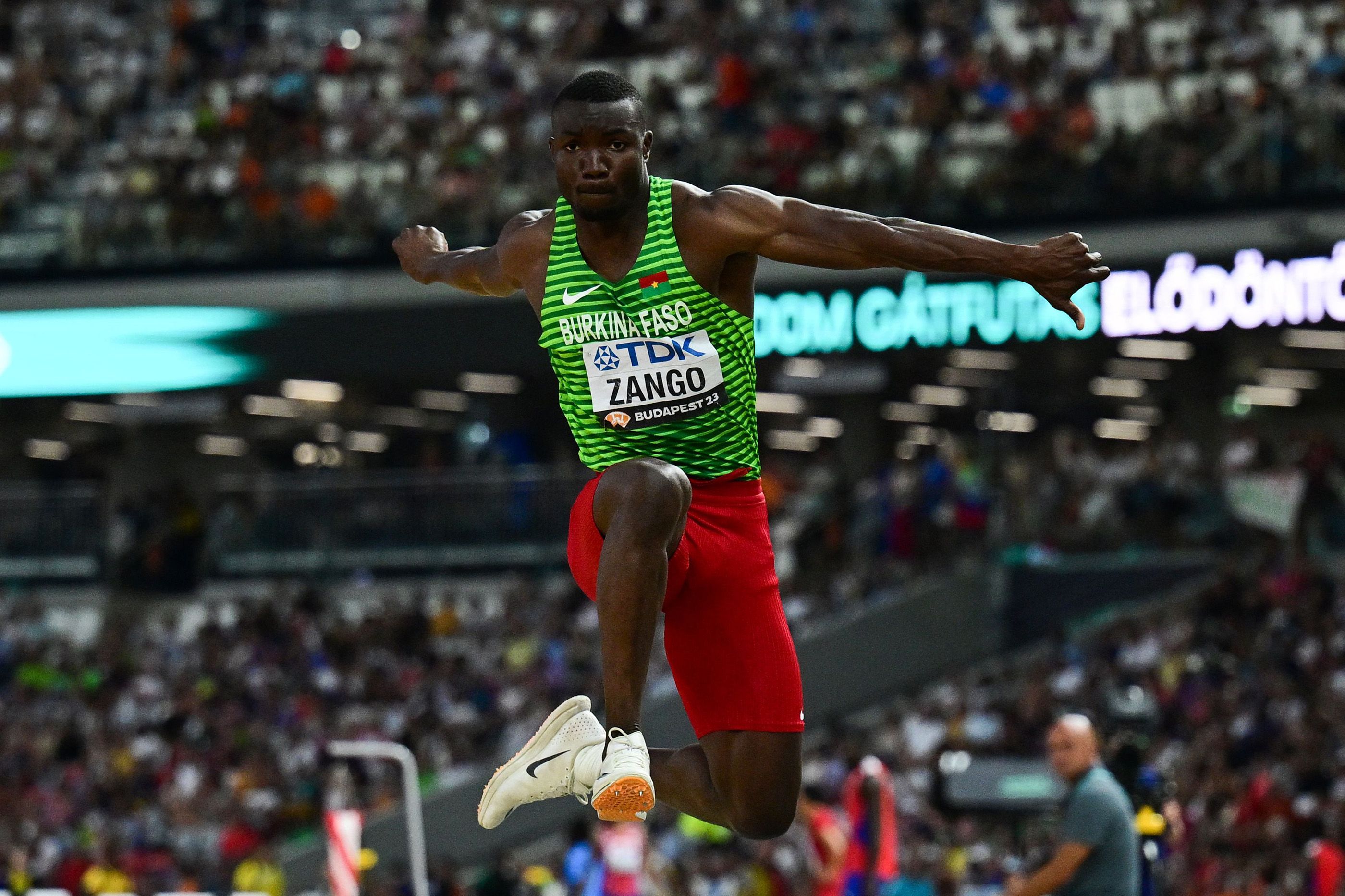 Hugues Fabrice Zango in triple jump action in Budapest (© AFP / Getty Images)
There was disappointment for Jamaica's 18-year-old rising talent Jaydon Hibbert, who had to scratch from the competition after the first round.
Bol walks tall after mixed relay fall
The big question of how Femke Bol would react to her calamitous fall in the mixed 4x400m relay on day one was amply resolved by her opening race in her signature event of the 400m hurdles. The answer was: very well indeed.
The 23-year-old world silver medallist and Olympic bronze medallist showed no signs of lingering effects having hit the deck metres from the line as she struggled to defend the Dutch lead on the last leg.
The race was effectively won at the halfway stage, and she eased off all the way down the home straight while still clocking 53.39, the fastest qualifying time for tomorrow evening's semi-finals and the fastest heat time ever at the World Championships.
Clearly the serious slap in the face she gave herself before settling in the blocks had powerful effect.
Kemi Adekoya of Bahrain was next fastest qualifier in an Asian record of 53.56, followed by Jamaica's Rushell Clayton on 53.97 and her team-mate Andrenette Knight, who was given the same time, 54.21, as the United States's 2019 world champion Dalilah Muhammad.
Warholm on the warpath as he seeks to regain his 400m hurdles title
Norway's Olympic champion and world record-holder Karsten Warholm, seeking a third world title after finishing out of the medals last year, moved through as fastest qualifier to tomorrow night's final, clocking  47.09 and looking ominously relaxed afterwards.
He was made to work, however, to keep ahead of Jamaica's 19-year-old Roshawn Clarke, who bettered his own world U20 record of 47.34, also a senior Jamaican record.
World and Olympic silver medallist Rai Benjamin had finished marginally ahead of Brazil's defending champion Alison Dos Santos in his semi-final, clocking 47.24, with the Brazilian lowering his season's best to 47.38.
Poland's Natalia Kaczmarek qualified fastest for tomorrow's women's 400m final in 49.50, followed by the Dominican Republic's world and Olympic silver medallist Marileidy Paulino on 49.54, Sada Williams of Barbados, who ran a national record of 49.58, and Ireland's rising talent Rhasidat Adeleke, who clocked 49.87, with the same time being given to Dutch runner Lieke Klaver.
Katie Moon, the world and Olympic champion from the United States, topped women's pole vault qualifying as one of 12 athletes to clear 4.65m.
Among those who failed to progress were Britain's Olympic bronze medallist Holly Bradshaw, 2017 world champion Katerina Stefanidi, and 2016 Olympic bronze medallist Eliza McCartney.
Mike Rowbottom for World Athletics