There's always a fascinating game of poker going on at the Valencia Test. With track time now at a premium, factories need to make the most of the one-day test in order to help shape their 2023 challengers.
But they're also trying to hold their cards as close to their chests as they can so not to give their rivals any ideas they can react to over the winter break.
However, plenty was uncovered on Tuesday at the Circuit Ricardo Tormo and we're going to take a look at the interesting technical updates and what they mean for each factory.
The big story down at Yamaha ever since Fabio Quartararo put pen to paper on a two-year contract extension was how much quicker the 2023 Yamaha M1 was going to be. A brand-new engine, tested extensively by Cal Crutchlow at Jerez, Aragon and Motegi, was going to be the answer to their problems. Quartararo himself had tested it at Barcelona and most recently at the Misano Test, on both occasions feeling the extra horses. However, both Quartararo teammate Franco Morbidelli felt no difference whatsoever in Valencia to the bemusement of all.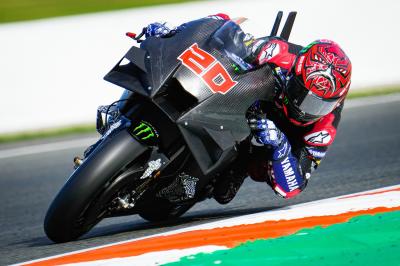 Other than that, a new chassis was spotted and a couple of different aerodynamic packages were seen. One, in particular, had a very similar feel to the aero KTM used this year, which was initially an idea stolen from Ducati. The much larger wings would of course offer increased downforce, which might be necessary if Yamaha can finally get their new engine singing.
Unsurprisingly, Honda had a lot of new items to try out in Valencia. Somewhat surprisingly, none of them had the desired effect. Eight-time World Champion Marc Marquez's brutal assessment of HRC's 2023 prototype was that it's not a motorcycle capable of winning a World Championship.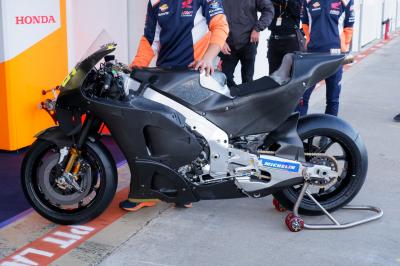 A fully revised tail unit and exhaust system, a tweaked aero package, a new air intake, and likely a new engine all were thrown at the RC213V in the hope that it could offer Marquez more front-end feeling, which he admitted to the media afterward that it did; but only a little. And that came at the cost of rear grip too.
Lessons have been learned down at Ducati following their pre-season nightmare heading into the 2022 season. Team boss Davide Tardozzi admitted to having a new engine, which they hope has finally overcome the power delivery issues that blighted Prima Pramac Racing's Jorge Martin and Johann Zarco, plus Mooney VR46's Luca Marini throughout 2022.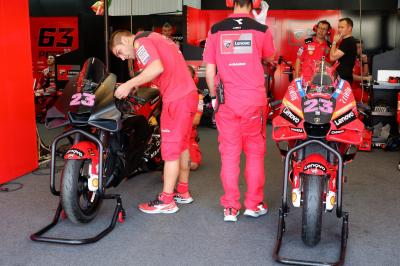 They were also spotted trying a new chassis and an updated aerodynamics package that included an 'Aprilia-style' side fairing.
It's a massive year coming up for the Austrian factory as they look to finally assert themselves as one of the top premier class teams. After a season dedicated to rebuilding and refocusing their efforts, at an initial glance their 2023 machine looks to be a very positive step.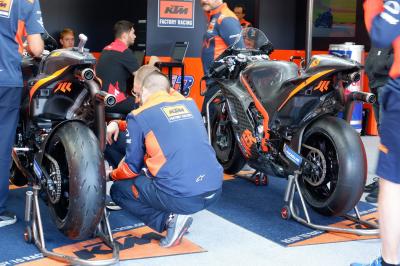 A complete change in weight distribution has been the key, with a fully redesigned rear end and a new chassis the biggest factors in this. A new aerodynamic package was also clearly visible but don't expect that to be KTM's final package come the opening round of the year. Team boss Francesco Guidotti revealed extensive time in the wind tunnel, coupled with ramped up collaboration with Red Bull's F1 outfit, over the coming winter months will shape the orange brand's aerodynamics for next season.
A new swingarm, a new chassis, an updated engine and some electronics improvements on the face of it look like a productive day for Aprilia. But, when speaking with Spanish broadcaster DAZN, Aleix Espargaro felt it wasn't enough, saying that the Valencia Test was "a wasted opportunity" for the Noale squad. – www.motogp.com