Three of the sport's greats gained more gold for their collections, while a brilliant discus breakthrough led to a surprise winner on day four of the World Athletics Championships Budapest 23.
While Faith Kipyegon in the 1500m, Gianmarco Tamberi in the high jump and Soufiane El Bakkali in the 3000m steeplechase lived up to their billing as champion performers, they were joined in victory by Laulauga Tausaga-Collins, who flipped the script to lead a US one-two in the women's discus ahead of Valarie Allman.
El Bakkali reigns supreme in men's 3000m steeplechase
The men's 3000m steeplechase final was going to be a duel between the world and Olympic champion versus the world record-holder. It was a close call.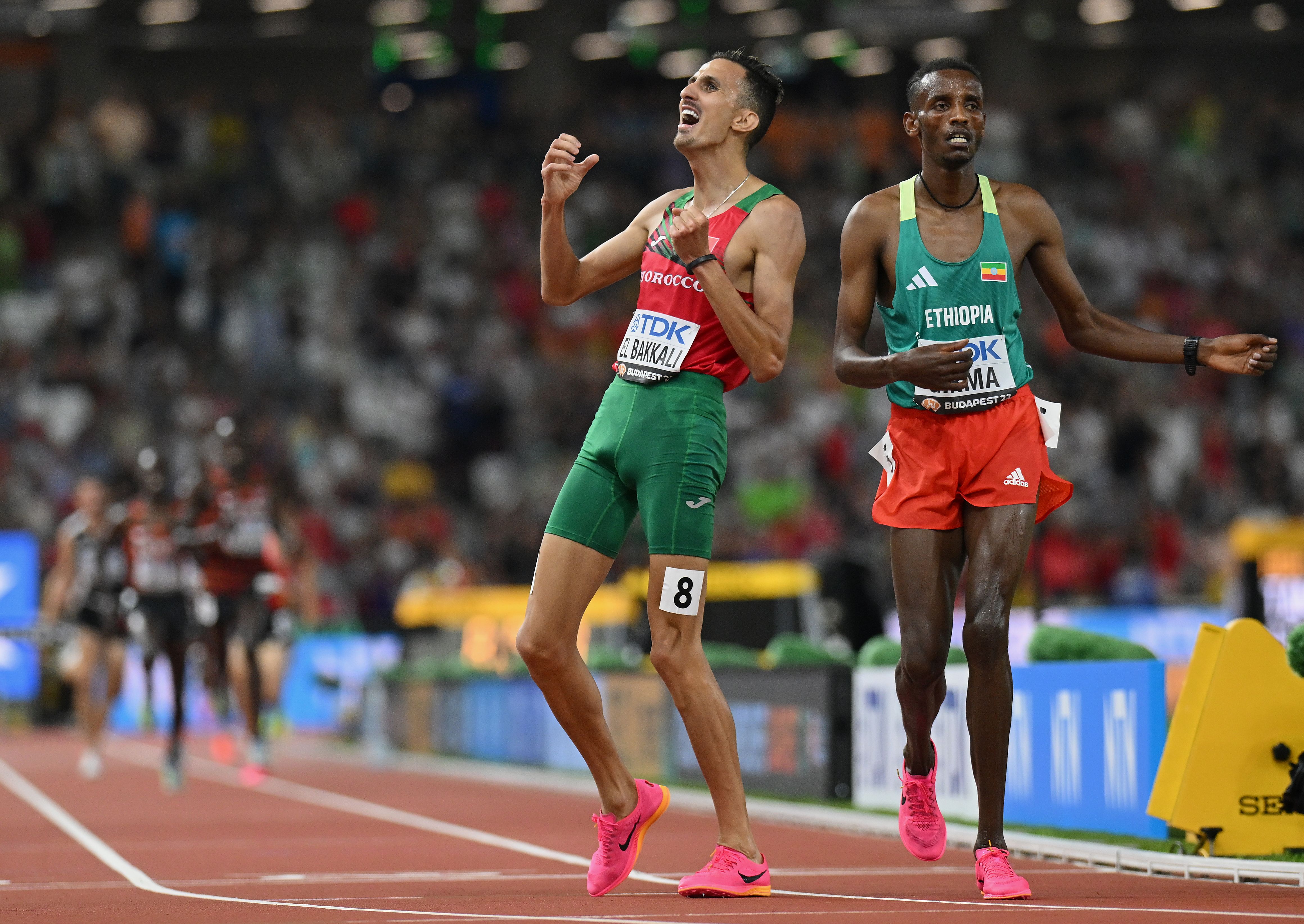 Soufiane El Bakkali beats Lamecha Girma in the 3000m steeplechase at the World Athletics Championships Budapest 23 (© Getty Images)
The main actors in this show had only gone head-to-head once this season in Doha, where Lamecha Girma won, and both were the only two athletes in the line up to have run inside eight minutes this year.
Girma had smashed the world record at the Paris Diamond League in June, clocking an astonishing 7:52.11, and then refrained from racing. Two-time world gold medallist Soufiane El Bakkali competed in three more meetings, taking victories in each of them and looking set for a successful title defence.
Both looked good in the heats, but the final was an entirely different ballgame. In his usual style, the Olympic champion remained behind the pack while Girma, who was behind initially, began to make a move to the middle.
His Moroccan rival watched his every move, waiting for the right time to strike. At 1000m, El Bakkali made his way to the middle while Girma had moved to second place, and with four laps to go, the 27-year-old fell into third place in the line.
He took the bell, switching gears to go past the rest of the field. The 22-year-old left it too late before responding but El Bakkali was long gone, leading by almost 20 metres to claim a second successive world title in 8:03.53, while Girma was left to lick his wounds with a fourth consecutive global silver in 8:05.44.
Despite suffering a fall over one of the barriers, Commonwealth Games champion Abraham Kibiwot was able to pip his teammate Leonard Kipkemoi Bett to the bronze with 8:11.98.
Kipyegon storms to third world title in women's 1500m
The main contender for gold in the women's 1500m was never in doubt. With three world records across the 1500m, mile and 5000m to her name this season, it was going to be a tall order for any lineup, no matter the depth, to dethrone Faith Kipyegon.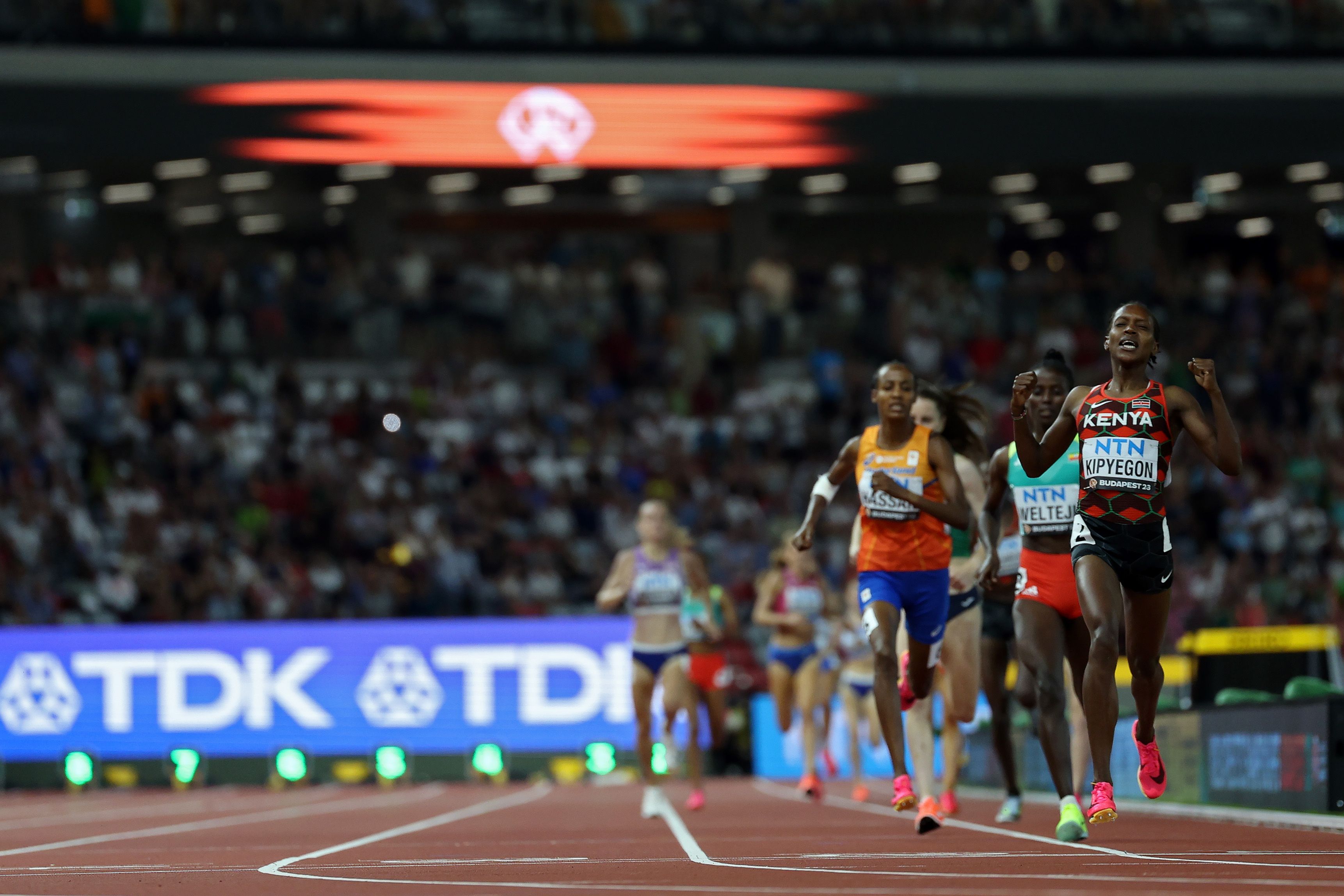 Faith Kipyegon wins the 1500m at the World Athletics Championships Budapest 23 (© Getty Images)
She took off with a fast 100m and settled into the race. Her teammate Nelly Chepchirchir, who had been impressive in the heats, tried to tag along, but was unable to face the heat after the first lap.
Sifan Hassan stayed behind and waited for the bell to make her move, but Ethiopia's Diribe Welteji had planted herself firmly behind the world record-holder and would not be displaced. She followed hard after Kipyegon who took the bell at 2:58 and had already extended her lead by almost five metres to stop the clock in 3:54.87, while Welteji claimed silver with 3:55.69.
It was a consolatory bronze for Hassan who posted 3:56.00 as the third-place finisher from Oregon, Laura Muir, faded to sixth. Ireland's Ciara Mageean got a national record of 3:56.61 and Chepchirchir a PB of 3:57.90 in fourth and fifth, respectively.
Tamberi and Harrison end Barshim's dominance
Unlike the fairytale ending that played out in the men's high jump at the Tokyo Olympics where both Mutaz Barshim and Gianmarco Tamberi shared the gold, there was to be no such joint spoils in Budapest.
Tonight was Tamberi's night, and the joint Olympic gold medallist made the most of it. Having initially knocked the bar at 2.25m, just like three-time world champion Barshim did, the pair eventually cleared the height at the second time of asking.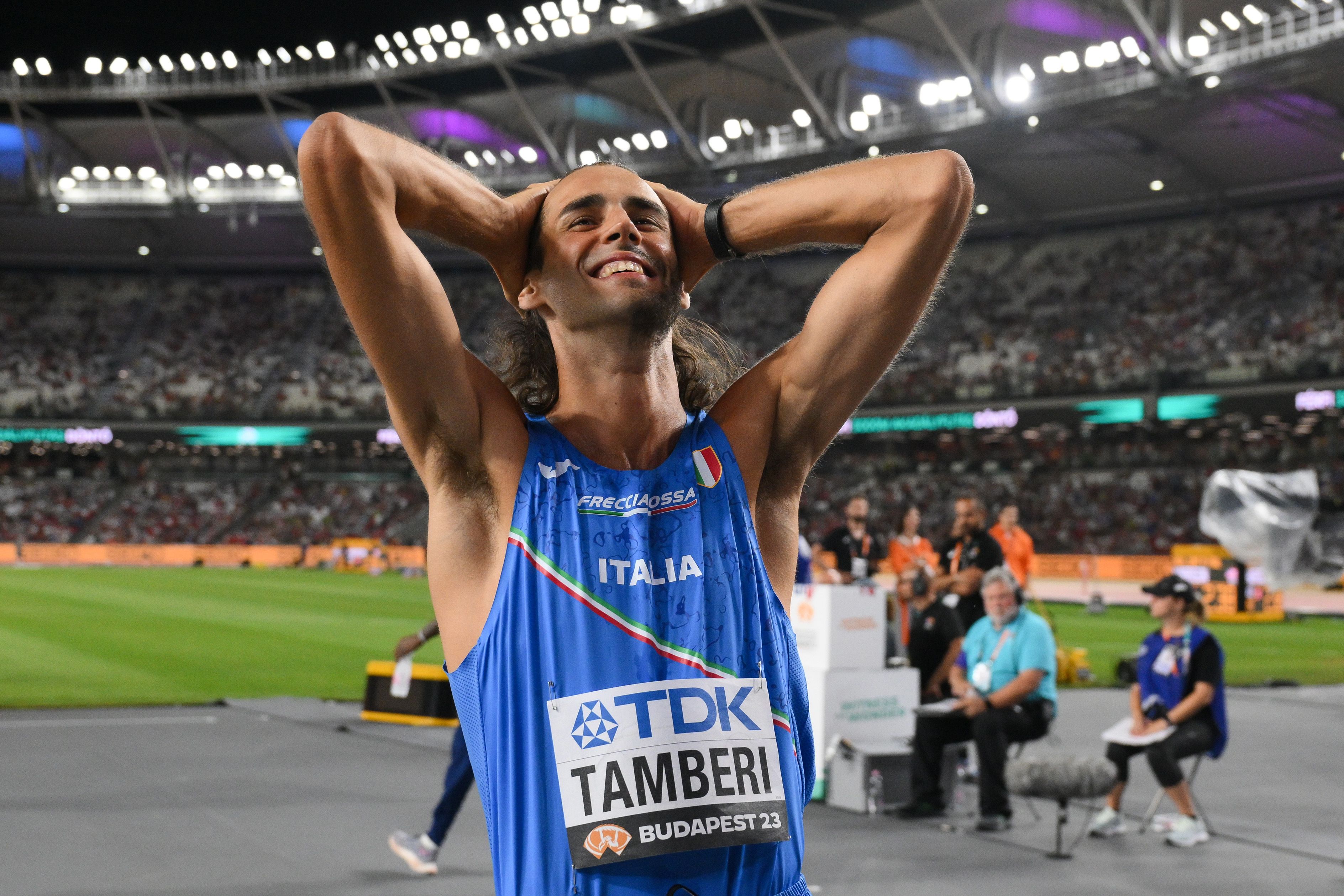 Gianmarco Tamberi celebrates his high jump win in Budapest (© Getty Images)
However, raw talent JuVaughn Harrison, who came to Budapest as No.2 on the world top list after winning the London Diamond League, had leapt to the top of the standings after a clearance of 2.25m on his first attempt.
Barshim had flawless jumps at 2.29m and 2.33m respectively, but so did Tamberi and Harrison. Trouble was definitely brewing for the Qatari athlete when he failed to get a clean sheet at 3.36m, missing all three attempts at the height, causing him to take a premature bow with the bronze medal.
Tamberi made a first-time clearance at 3.36m, a world lead to take the gold – his first world outdoor medal after four appearances, while Olympic finalist Harrison, who failed at his first attempt, got the nod at his second to win the silver – his first global medal. The pair failed their attempts at 2.38m, while Cuba's Luis Enrique Zayas finished fourth with a PB of 2.33m.
Tausaga-Collins springs discus surprise
For the second World Championships in a row, a surprise winner took the women's discus title. Last year it was Feng Bin, this year it was Laulauga Tausaga-Collins.
The US thrower was down in sixth place at half way with a best of 65.56m, a 10-centimetre improvement on her PB. But then in round five, she unleashed a mammoth effort of 69.49m to move into the lead, leapfrogging Olympic champion Valarie Allman, defending champion Feng and multiple global champion Sandra Perkovic.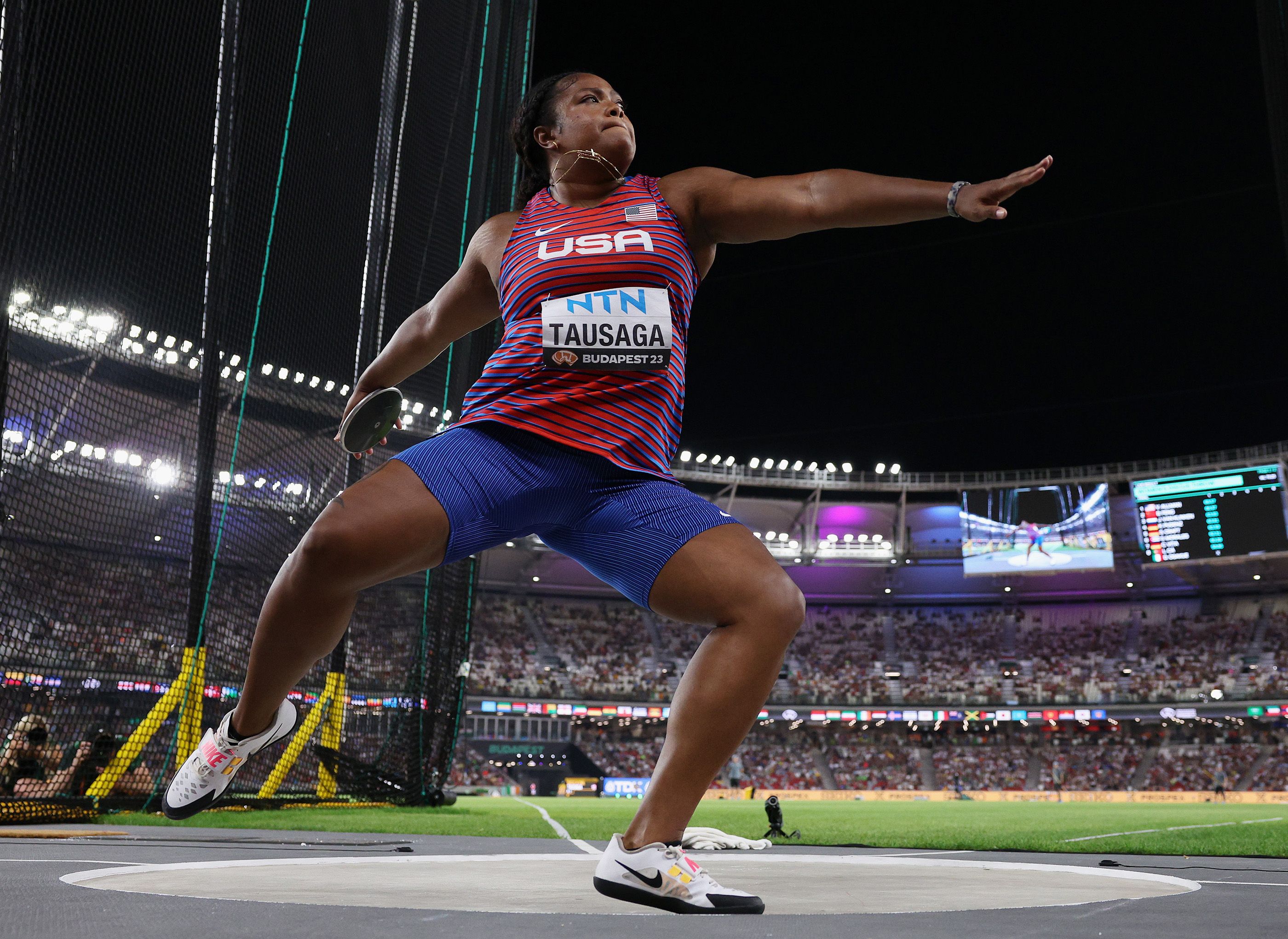 Laulauga Tausaga in the discus final at the World Athletics Championships Budapest 23 (© Getty Images)
No one was able to respond in the sixth round. Feng threw 68.20m, her best of the night, but she remained in third place. Allman ended with 68.61m, no improvement on the 69.23m she threw in round four. And Tausaga – stepping into the throwing circle with tears in her eyes – rounded out her memorable night with 68.36m, showing that her big winning throw wasn't a one-off.
Early fireworks in women's 100m hurdles as Harrison runs world lead
With two silver medals from her last three global finals, former world record-holder Kendra Harrison laid down a big marker in the heats of the women's 100m hurdles, which was the first event of the evening.
The US athlete ran an impeccable race, gliding over the barriers smoothly and stopping the clock in a world lead of 12.24 – equalling her second-fastest time ever.
Bahamian Devynne Charlton set a national record of 12.44 in second while 2015 world champion Danielle Williams, who clattered the final hurdle, recovered quickly to cross the line in third.
Other big names dominated their respective races. US champion Nia Ali enjoyed a brilliant start to take heat two in 12.55, with European gold medallist Pia Skrzyszowska following in 12.65.
Olympic champion Jasmine Camacho-Quinn took her unbeaten run this year to 12 out of 12 races, running a smooth race from lane nine to win heat four in 12.50, while world record-holder Tobi Amusan won heat five in 12.48.
NCAA gold medallist Ackera Nugent took the win in heat one from USA's Masai Russell, though both athletes clocked an identical time of 12.60.
European record for Hudson-Smith as Gardiner and Ndori miss out
The men's 400m was laced with a lot of drama, from world record-holder Wayde van Niekerk nearly missing out on the final after placing third in his semifinal, to Steven Gardiner and Bayapo Ndori not finishing their races.
Bahamian Gardiner appeared to have suffered a hamstring injury as he approached the bend, collapsing on the track, while a similar fate had befallen Ndori moments earlier in the race. USA's Quincy Hall (44.43) and Sean Bailey (44.94) were the top two finishers from the race.
Jamaican youngster Antonio Watson was the man to beat in the first semifinal, putting up a strong showing to cross the line in a huge PB of 44.13, while USA's Vernon Norwood ran a strong 60m to overtake Van Niekerk with about five metres to go, relegating the two-time world champion to third place. The 2016 gold medallist would eventually qualify.
The standout performer in the semifinals was the bronze medallist from Oregon, Great Britain's Matthew Hudson-Smith, who powered to a European record of 44.26, breaking Thomas Schonlebe's 26-year-old mark of 44.33, set at the 1987 World Championships in Rome.
Former world champion Kirani James (44.58) and Norwegian Havard Bentdal Ingvaldsen finished second and third, respectively.
Exit for Muhammed in 400m hurdles
For the first time since 2013, Dalilah Muhammad – who has claimed a medal in all four World Championships she's competed in – will not feature in the final of the 400m hurdles as she could only manage 54.19, missing out by one spot as Femke Bol raced to a win in 52.95, with Jamaican Andrenette Knight following in 53.72.  
Rushell Clayton ran a spectacular second bend, powering down the home straight in heat one and with Anna Cockrell on her heels, both hurdlers sped to lifetime bests of 55.30 and 53.63, respectively, to seal their spots in the final.
The fifth-fastest woman in history, Shamier Little, was the woman to beat in heat three, running a season's best of 52.81 to inspire Bahrain's Kemi Adekoya to a second area record in as many days – 53.39 this time around – to finish ahead of Janieve Russell (53.69).
Italy's Ayomide Folorunso broke 54 seconds for the first time in her career, racing to a national record of 53.89, which sent her to cloud nine at the realisation that she would make the final for the first time.
No title defence for Korir in men's 800m
The defending champion in the men's 800m Emmanuel Korir will not compete for global gold in Budapest after finishing fourth in his race in the men's 800m heats, which was won by France's Benjamin Robert in 1:46.45.
Two Kenyan athletes out of four survived the heats: Emmanuel Wanyonyi, who topped the overall standings in 1:44.92, and Alex Ngeno Rotich, who was third in heat one in 1:47.63. The bronze medallist from Doha, Ferguson Rotich, fell off the radar with his sixth position in heat four and did not advance.
Canadian Marco Arop ran a dominant race to win heat seven while Moroccan Abdelati El Guesse led heat six with a time of 1:45.24. Spaniard Adrian Ben (1:45.37) and Poland's Mateusz Borkowski (1:45.40) won heats four and two, respectively.
Yemi Olus-Galadima for World Athletics