The Italian set the second-ever fastest lap time in Malaysia as a flurry of time attacks come on Sunday afternoon
Slow start, hectic middle, steady end. That was the story of the third and final day of the Official MotoGP™ Sepang Test as we saw times tumble on Sunday, in between a couple of small rain showers that hampered the start and end of testing.
Coming out on top of the timesheets was Luca Marini (Mooney VR46 Racing Team) thanks to a blistering 1:57.889, as reigning World Champion Francesco Bagnaia (Ducati Lenovo Team) also broke the 1:58 barrier. Maverick Viñales (Aprilia Racing) rounded out the top three, the Spaniard 0.147s off Marini's table-topping effort at the close of play.
With not a lot more tech updates to discuss that we haven't delved into already over the past couple of days, Sunday was more about having a closer look at the timing screens. Only two riders didn't manage to improve their best times from Friday and Saturday, they were Miguel Oliveira (RNF MotoGP™ Team) and 2021 World Champion Fabio Quartararo (Monster Energy Yamaha MotoGP™), as most of the full-time premier class stars did a few time attack laps.
Here's the full rundown of what we saw today, factory by factory, starting with Ducati after Marini and Pecco crept into the relatively untouched 1:57s bracket.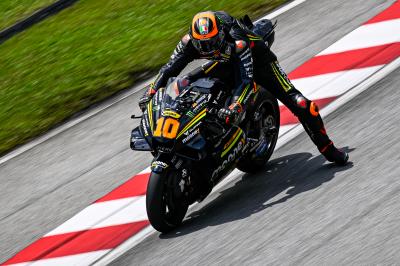 Reigning Champion Bagnaia had the new aero on both bikes but had the downwash ducts instead of the "ground-effect" side fairings, reportedly preferring them. Teammate Enea Bastianini had the new aero on both bikes but one with the downwash ducts and one with the "ground-effect" lower side fairings. The Beast was fourth overall and at the end of the day said they were still only at 70-75% of the potential.
Ducati Lenovo Team Manager Davide Tardozzi was also pleased overall, but he did also stress that the details of the whole new bike will be decided in Portimão. He also reported that Bagnaia said there were good points to the '23 machine, but still "one weak point" compared to the GP22, so that will be one to ask about.
At Prima Pramac Racing, Jorge Martin was especially vocal about the step forward with the 2023 engine, and he was fifth at the end of play. Teammate Johann Zarco was also spending time on the ground effect lower side fairings, and he finishes the test in P16.
With Marini on top enjoying the still very much sublime GP22, Mooney VR46 Racing Team make it two days of three they've stolen some headlines at Sepang after teammate Marco Bezzecchi was also quickest on Day 1. Bezzecchi was eighth on Sunday, just 0.019 behind Fabio Di Giannantonio (Gresini Racing MotoGP™) on another GP22. New Ducati rider Alex Marquez was just behind Bezzecchi, and by just we mean 0.022s.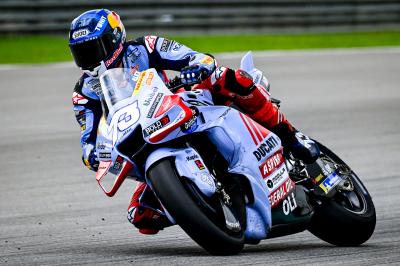 Both of the Aprilia Racing stars – Aleix Espargaro and Viñales – had 2023 aero packages on them on the final day, and both bikes in each of their boxes were the 2023 machines. It looks like Aprilia have made a promising step with their new package, as both riders improved their overall lap times ahead of lunch time on Sunday.
Viñales was the busier of the two riders in terms of lap times. Top Gun clocked 56 laps in total and had an enjoyable afternoon, as we saw the number 12 sling himself to the top of the timesheets. His 1:58.036 was at some stage the third fastest lap we've ever seen at the Sepang International Circuit, before Marini slammed in his 1:57.889 and Pecco joined his VR46 Academy counterpart in the 1:57s.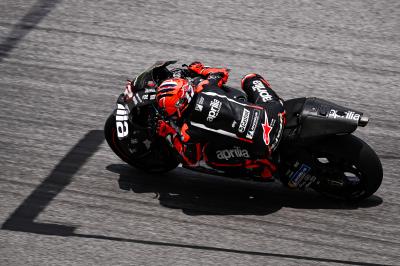 Espargaro set 32 laps on the final day and eventually ended the three-day outing in sixth place, 0.4s from top spot, but the Spaniard was happy with how Aprilia's Test has gone. It's "too early" to properly evaluate the 2023 package, but it's so far, so good for the Naole factory.
Positivity was seemingly running through the RNF MotoGP™ Team box too as premier class sophomore Raul Fernandez climbed to P7 overall, but as others also improved, Fernandez eventually finished P11. His 1:58.710 was over a second quicker than he managed in qualifying at the 2022 Malaysian GP, while teammate Miguel Oliveira continued to show impressive pace on the RS-GP. The Portuguese star ended the Test in P15, his best time coming in at a 1:58.839.
Oliveira admitted he "expected more" from himself on the final day, he couldn't quite hook up a decent time attack lap, but overall Sunday – and the overall Test – has been good. 
In the Honda camp, Marc Marquez (Repsol Honda Team) managed to better his overall best lap time ahead of lunch time and sat comfortably in the top 10 for a while. After having four bikes in his box for the first two days, there were only three on his side of the factory HRC garage on Sunday – and one of them had a cover on it. The two bikes the eight-time World Champion was out on were the 2023 development bikes, they each have a different chassis, but look very similar from the outside. Notably, the experimental bike that's been a hot topic of conversation didn't make an appearance on Day 3.
At the end of the three days, the number 93 was P10 on the timesheets having completed a further 55 laps on the final day. Marquez was 0.777s off Marini's pace, with teammate Joan Mir a solid P12 – just over a tenth of Marquez's effort. Mir got another valuable 45 laps under his belt as he continues his adaptation to the RC213V.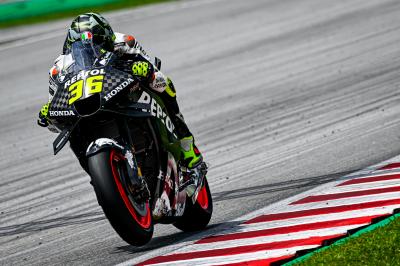 Repsol Honda Team Manager Alberto Puig admitted Honda are "clearly" not where they want to be, and commented how positive Marquez's physical condition is. Puig was also full of praise for Mir's progress, with Mir also pleased that he's feeling better on the bike "every day".
Alex Rins' (LCR Honda Castrol) best time of the test was a 1:58.932, placing him P19, with Takaaki Nakagami (LCR Honda Idemitsu) 1.6s off top spot in P21.
That different engine noise overheard from Red Bull KTM Factory Racing earlier in the test was overheard from Pol Espargaro's GASGAS RC16 on Sunday. He was P13 overall too, just thousandths ahead of Brad Binder (Red Bull KTM Factory Racing). Rookie Augusto Fernandez seemed to be out testing one of the newer chassis, taking on a few more parts too.
At KTM, Binder was back out testing the aero update that broke cover at the Shakedown, and the engine questions roll on. The South African was 0.015s behind Pol Espargaro in a GASGAS-KTM RC16 sandwich, in P14 after another half century of laps.
On Jack Miller's side of the Red Bull KTM garage, both bikes looked the same as they have over the previous two days – with the Valencia aero update. He was P18 after another 54 laps of settling in. He also crashed at Turn 1, rider ok.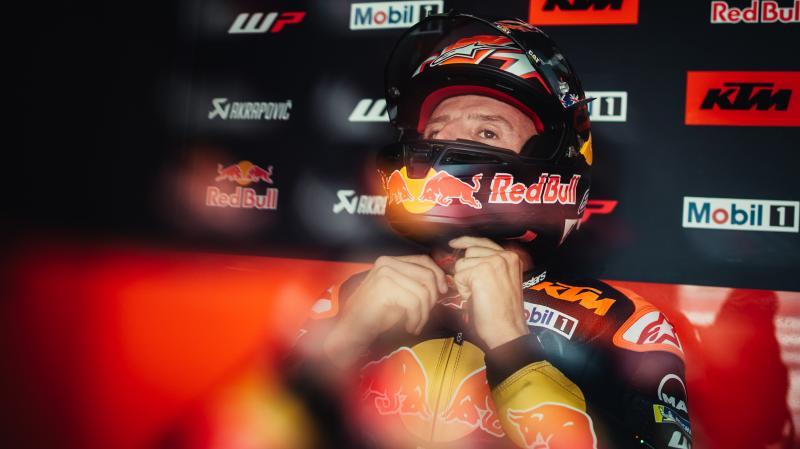 "I've hit a wall" – Miller in early trouble at KTM? 12/02/2023
In terms of tech, there wasn't much more to report from the Iwata factory on Day 3 that hasn't already been discussed over the past couple of days. Franco Morbidelli (Monster Energy Yamaha MotoGP™) was seen testing a bigger version of Yamaha's new aero that we saw his teammate Fabio Quartararo trying in Valencia, but the latter hasn't lapped with it in Sepang.
The timesheets didn't make pretty reading for Yamaha, but Team Manager Maio Meregalli confirmed that both Quartararo and Morbidelli like and agree on what 2023 engine was best for the upcoming season. That's a huge positive. The rain meant Yamaha couldn't get through all their items that "need to be evaluated" before the season, according to Meregalli, so expect the Iwata factory to be busy with chassis and swingarm testing in Portimao.
At the end of the three-day Test, Quartararo was P17 and Morbidelli was P20. Don't read too much into that at this stage, but improvements will be sought after at the two-day Portimao Test – especially on new tyres. Quartararo branded their pace a "disaster" on new tyres, and a "complete reset" will be needed heading to Portugal in that particular area.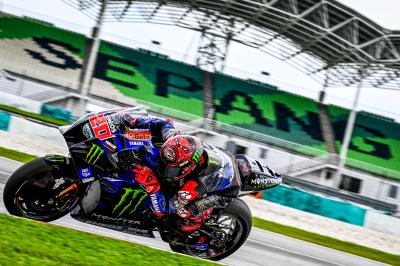 And just like that, the Sepang Test draws to a close. A busy few weeks now face the factories before the premier class venture back out on track for two days of testing in Portimao on the 11th and 12th of March. Two huge days for every team and rider. 
Top 10 combined: 
1. Luca Marini (Mooney VR46 Racing Team) – 1:57.889
2. Francesco Bagnaia (Ducati Lenovo Team) + 0.080
3. Maverick Viñales (Aprilia Racing) + 0.147
4. Enea Bastianini (Ducati Lenovo Team) + 0.260
5. Jorge Martin (Prima Pramac Racing) + 0.315
6. Aleix Espargaro (Aprilia Racing) + 0.418
7. Fabio Di Gannantonio (Gresini Racing MotoGP™) + 0.455
8. Marco Bezzecchi (Mooney VR46 Racing Team) + 0.474
9. Alex Marquez (Gresini Racing MotoGP™) + 0.496
10. Marc Marquez (Repsol Honda Team) + 0.777