A couple of days after the British GP, motogp.com had the chance to have an exclusive catch up with Marc Marquez (Repsol Honda Team) at his local gym in Madrid about the eight-time World Champion's recovery from a fourth right arm operation.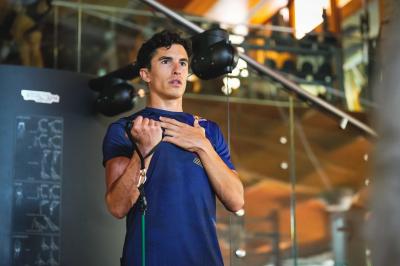 In the interview, Marquez explained why he'll be heading to the upcoming CryptoDATA Motorrad Grand Prix von Österreich for a couple of days. Despite not being at a Grand Prix since the Italian GP, the number 93 has been in constant contact with Honda regarding next year's RC213V package – most notably Crew Chief Santi Hernandez and Test Rider Stefan Bradl.
It's for this reason that Marquez will be present in Austria. Catching up with his team and talking to Japanese engineers about the future is what the Spaniard will be focused on over at the Red Bull Ring, with Marquez revealing that he'd previously disconnected too much from the development of the bike when injured.
"Honda is in a critical moment. I am speaking a lot with my team and trying to understand the 2022 bike, the situation and what is happening," explained Marquez. "This is why I will go to Austria, to speak to everyone and to meet with the HRC staff from Japan to work for the future. We are all working together, we win together, we lose together, and we will come back together.
"I'm speaking a lot with Stefan Bradl as well, us and Santi are working together and testing things – both know how I ride. I said in Mugello that I will be at home, but I want to stay connected. With the previous operation I disconnected too much, and I want to be involved so that when I come back, I will have everything fresh."
It will be great to see Marquez back in the MotoGP™ paddock at the Red Bull Ring before finding more out at the end of August about his recovery. As things stand, it looks very promising regarding seeing Marquez back racing before the end of the season – something Honda, and himself, will be hoping becomes possible. – www.motogp.com