It was a dramatic day of doubles all around, it seemed, on gold rush Thursday at the World Athletics Championships Budapest 23.
There were seven titles up for grabs on day six, the most of the championships, and Jamaica ended their drought with two surprise successes in the space of 10 minutes in the evening session at the National Athletics Centre in Budapest.
First Danielle Williams pipped Olympic champion Jasmine Camacho-Quinn by 0.01 in the 100m hurdles to reclaim a title she won in Beijing back in the mists of 2015. Then Antonio Watson, nine years her junior, secured an equally unexpected gold in the men's 400m final.
There was also a Jamaican medal double in the men's long jump, Wayne Pinnock taking a consolation silver and Tajay Gayle bronze in a gripping competition won with a last-gasp 8.52m by Greece's Olympic champion Miltiadis Tentoglou.
Camryn Rogers' victory in the women's hammer, ahead of US throwers Janee' Kassanavoid and DeAnna Price, completed a momentous double for her nation, Ethan Katzberg having landed gold in the men's final on day two.
The day had started with Spanish teammates Alvaro Martin and Maria Perez completing a double Spanish double in the race walks, following up their 20km victories with successes at 35km. The day ended on the track without surprise, Femke Bol of the Netherlands collecting her first outdoor world title with a commanding victory in the women's 400m hurdles final.
History repeats as Williams strikes surprise hurdles gold
Running wide of the fancied contenders in lane two, Danielle Williams produced a blast from the past performance in the women's 100m hurdles final, stealing away to a 12.43 victory almost unnoticed by her rivals to regain the title she won in Beijing eight years ago.
Olympic champion Jasmine Camacho-Quinn was just 0.01 down in second with former world record-holder and world leader Kendra Harrison of the US third in 12.46. Defending champion and world record-holder Tobi Amusan of Nigeria finished sixth in 12.62.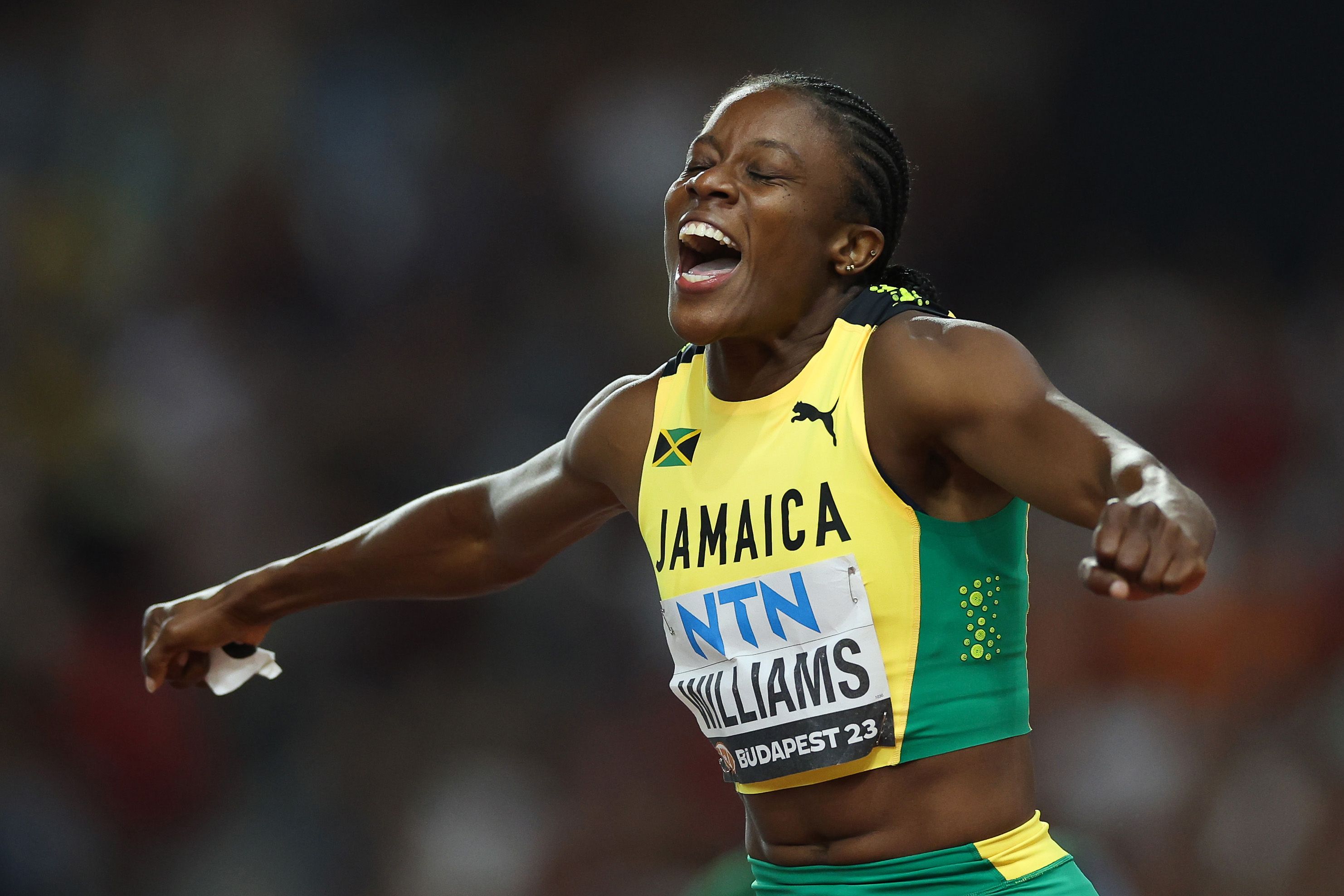 Danielle Williams after winning the 100m hurdles at the World Athletics Championships Budapest 23 (© Getty Images)
"I still don't believe I won against such a stellar field," said Williams. "I've been racing these ladies all year and they have been kicking me left, right and centre. But I had such confidence in my training and my abilities that I never stopped believing."
Watson graduates from world U18 to senior champion with surprise 400m gold
Clearly, Matt Hudson-Smith went into the men's 400m final not short of belief after relieving Thomas Schoenlebe of his ancient European record with a 44.26 clocking in the semifinals.
In the absence of Steven Gardiner, the Bahamian Olympic champion having pulled up injured in the semifinals, the European champion from Britain went for broke from the off, building a clear lead by halfway and still enjoying some daylight as he entered the home straight.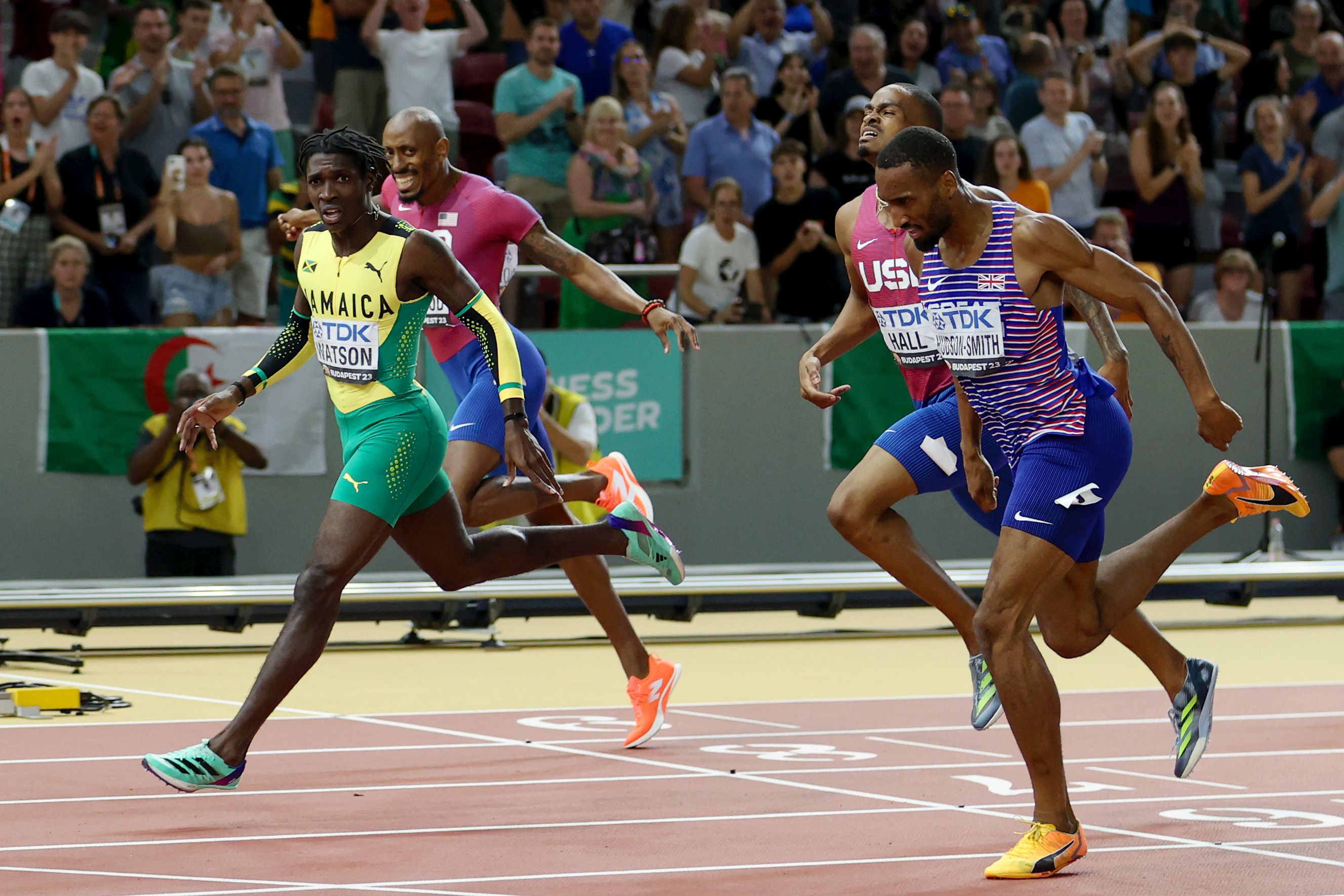 Antonio Watson wins the 400m at the World Athletics Championships Budapest 23 (© Getty Images)
In the charge to the line, though, Antonio Watson edged past him to claim the gold in 44.22, with the spent Hudson-Smith second in 44.31 and Quincy Hall of the US third in 44.37. "I am really proud I am bringing gold to Jamaica," said Watson, who had set a PB of 44.13 in the semifinals to advance to the final as fastest qualifier.
"After winning the world youth title in 2017, it is amazing to win the gold medal at my first senior World Championships."
Tentoglou leaps from last-gasp despair in Oregon to last-round joy in Budapest
At the World Athletics Championships in Oregon last year, there was last-gasp heartache for Miltiadis Tentoglou in the men's long jump final. The gold was within his grasp until China's Wang Jianan snatched it from him by four centimetres in the final round.
This time the Greek was in no mood to bear any gifts. On day six in Budapest, it was Tentoglou's turn to pull the gold out of the bag in dramatic last-gasp fashion.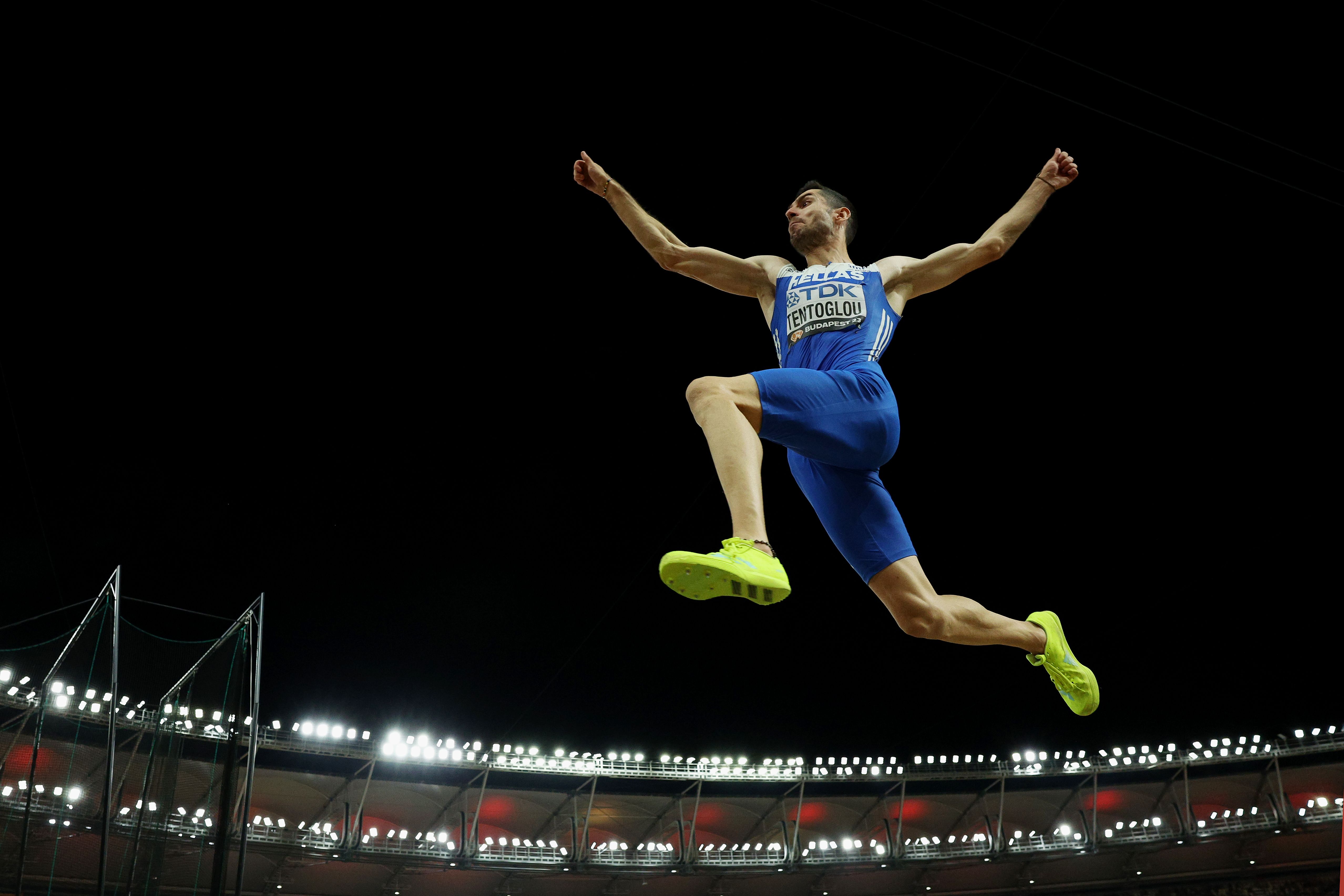 Miltiadis Tentoglou in the long jump at the World Athletics Championships Budapest 23 (© Getty Images)
The Olympic champion threw down the gauntlet with an opening leap of 8.50m but found himself in second when Wayne Pinnock matched his effort in round two. The Jamaican, who had uncorked an 8.54m world lead in qualifying, had opened with 8.40m so had the advantage on countback; Tentoglou fouled his second effort.
Tantalisingly, Tentoglou closed to within one centimetre of countback parity, jumping 8.39m in round three. And there it stayed until the last round.
Tentoglou launched himself out to 8.52m to take the lead. Pinnock went for broke but could only manage 8.38m, giving a wry smile as he rose from the pit.
In a secondary drama, Pinnock's Jamaican teammates were locked in a similarly tight tussle for bronze. Carey McLeod was in third place from round two, courtesy of an 8.27m effort. Tajay Gayle, the 2019 world champion, matched it in the final round and snatched bronze courtesy of a superior back-up jump, 8.17m.
Rogers completes historic hammer double for Canada
Until day two in Budapest, no Canadian hammer thrower had finished on top of the pile at a World Athletics Championships. Four days after Ethan Katzberg's victory in the men's final, Camryn Rogers followed up with a second gold for Canada in the women's final.
None of her rivals could better her opening effort of 77.22m, so the silver medallist in Oregon last year stepped up to gold standard – ahead of US teammates Janee Kassanavoid, second with   76.36m, and DeAnna Price, third with 75.41m.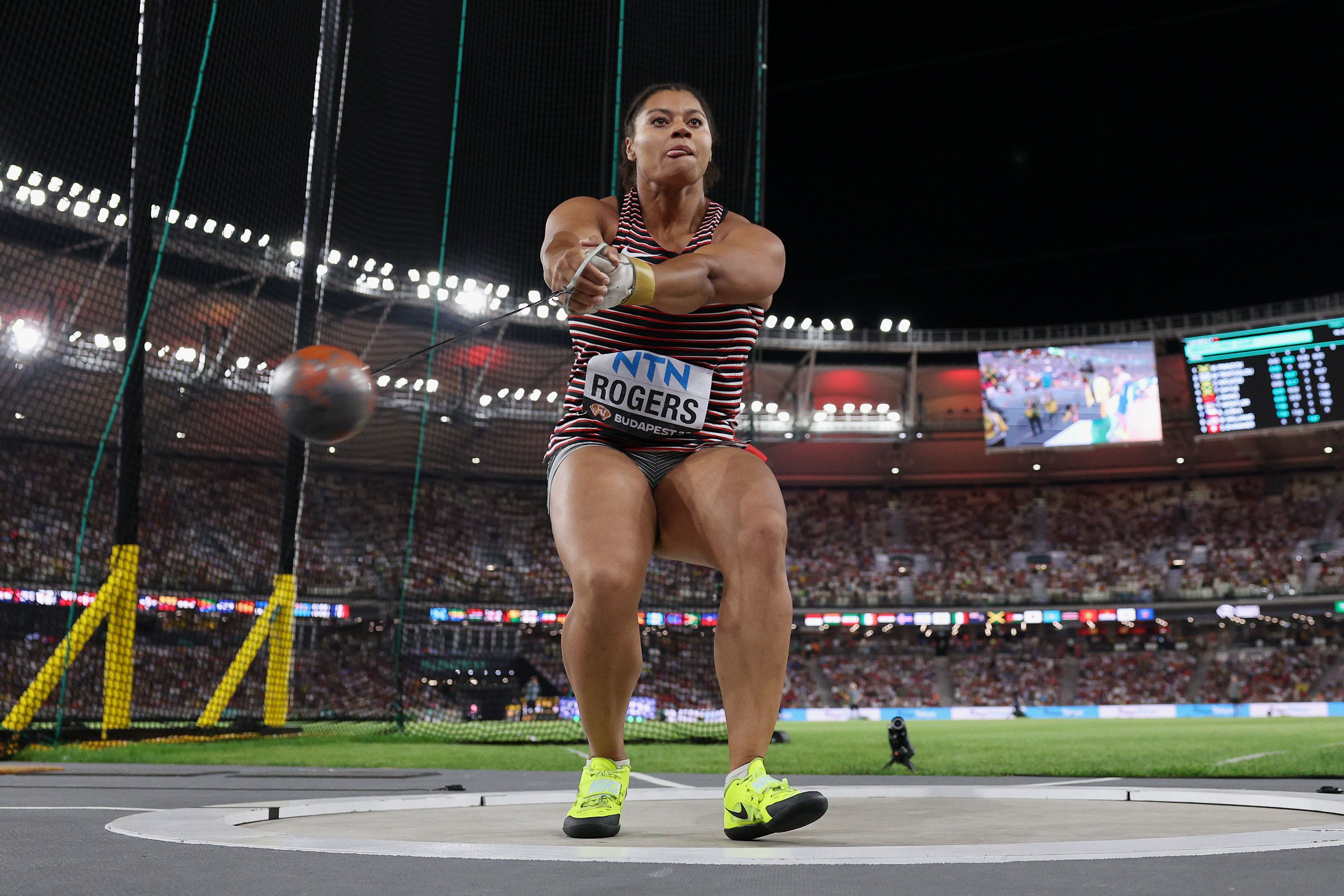 Camryn Rogers in the hammer at the World Athletics Championships Budapest 23 (© Getty Images)
"Ethan really set the stage out there," said Rogers. "I feel Canada is making its presence known all across the world. Being able to win this medal for Canada means the world to me."
Dutch delight as Femke duly Bols them over
"Femke, Bol them over!" implored the banner in the crowd among the orange-clad sea of Dutch supporters and the Dutchwoman duly delivered, bringing home her expected gold in the women's 400m hurdles final in 51.70.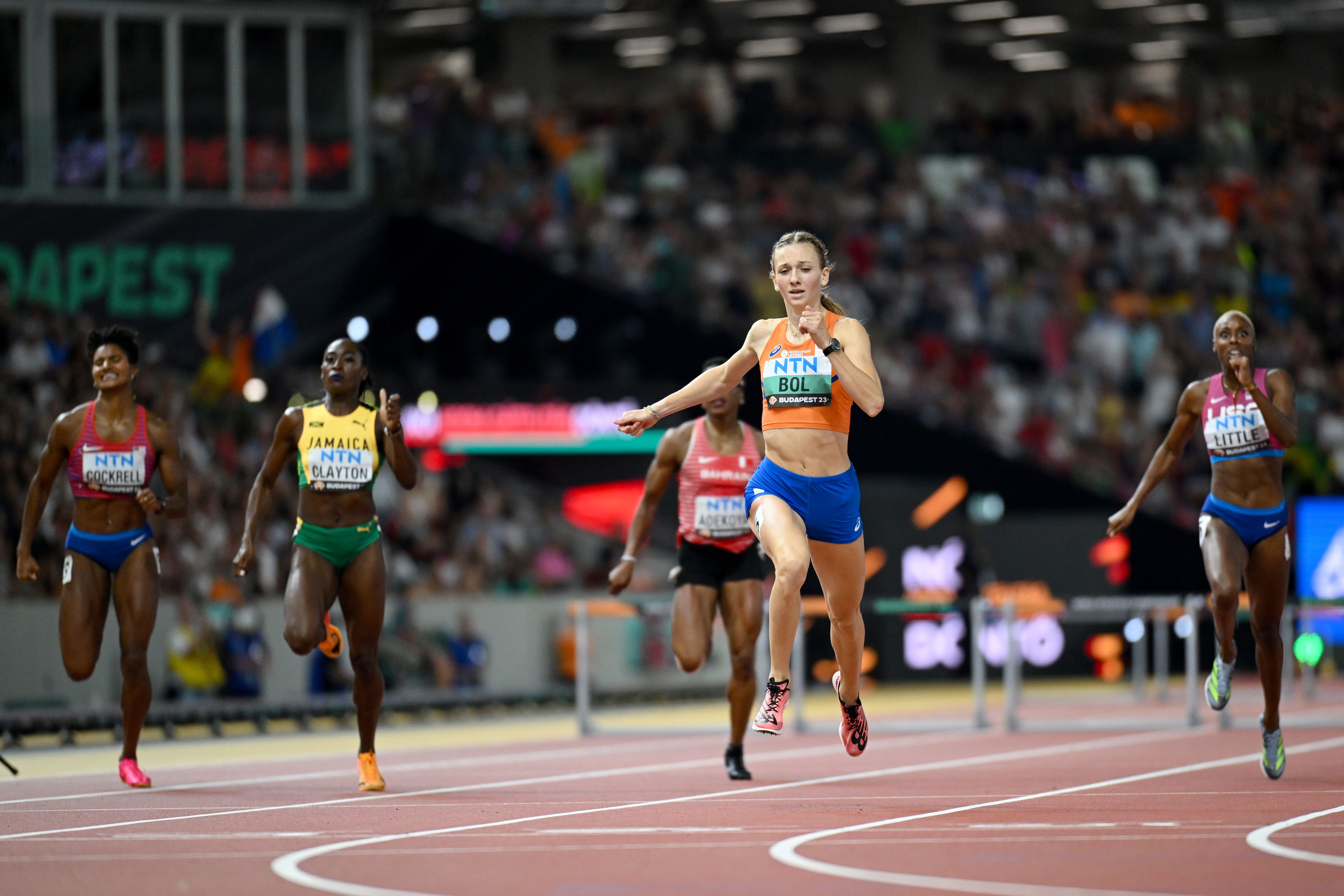 Femke Bol wins the 400m hurdles at the World Athletics Championships Budapest 23 (© Getty Images)
In doing so, the world indoor 400m record-holder collected her first global title, easing the painful memory of the fall she suffered within sight of an anchor leg victory in the mixed 4x400m on the opening night. Shamier Little of the USA finished more than a second behind (52.80), securing her second silver. Jamaica's Rushell Clayton took bronze in 52.81.
Martin and Perez sweep the race walks with historic double Spanish double
Day six started in historic fashion, Spain becoming the first nation to ever accomplish a sweep of the gold medals in the race walks. After bagging the 20km titles last weekend, Alvaro Martin and Maria Perez proved a class apart from their rivals once again, this time over 35km.
Martin powered clear of Ecuador's Brian Pintado on the final circuit to claim the men's crown in 2:24:30, a Spanish record. Pintado finished second in 2:24:34, a South American record, with Masatora Kawano third in 2:25:12.
Such was the jubilation among the Spanish supporters in the crowd, Perez grabbed a flag and prepared to celebrate before an official raised an index figure to let her know she still had another lap to complete. The 27-year-old still finished 2:12 clear of defending champion Kimberly Garcia in 2:38:40, breaking her Peruvian rival's championship record.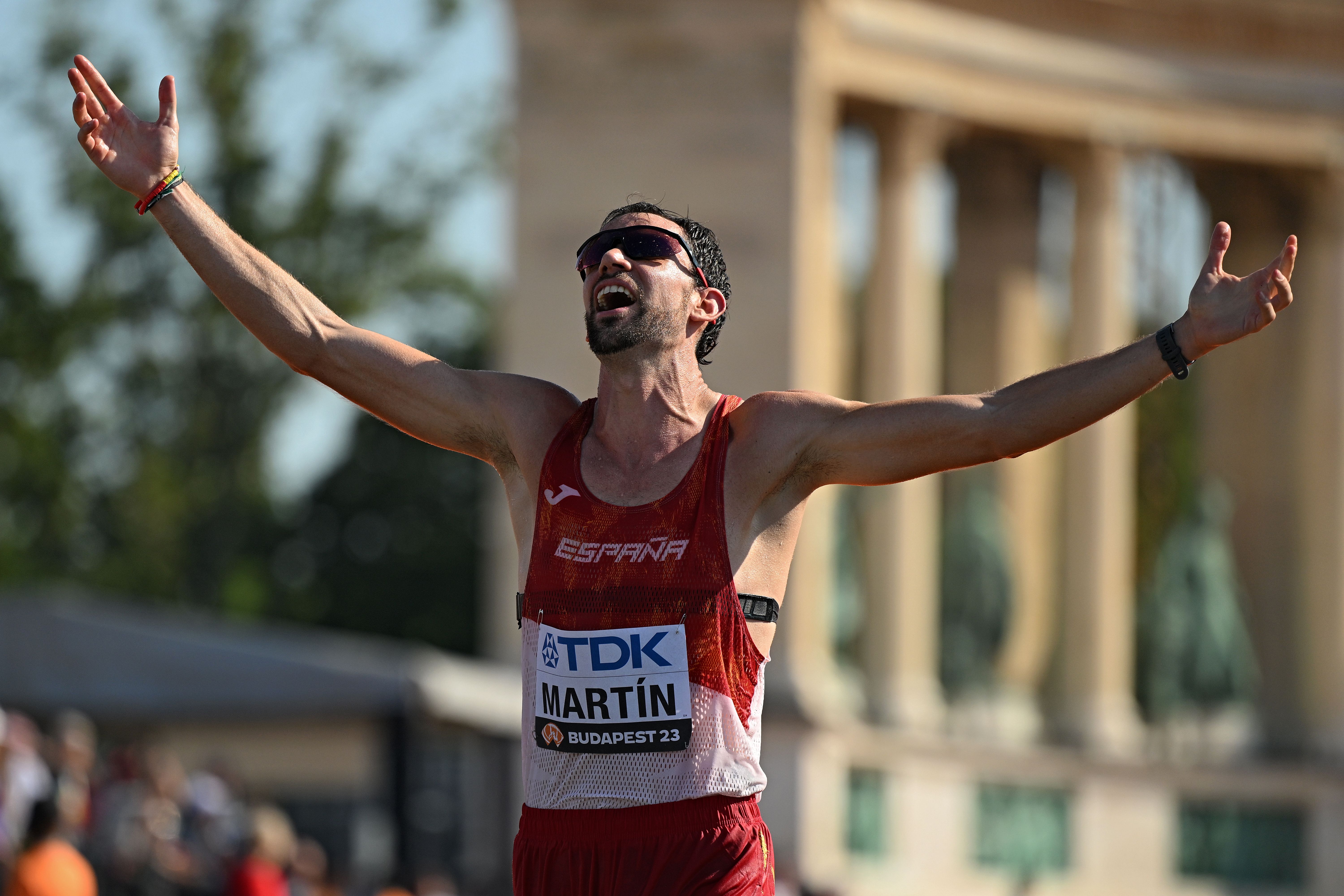 Alvaro Martin wins the 35km race walk at the World Athletics Championships Budapest 23 (© Getty Images)
At 39, Antigoni Ntrismpioti followed her European double in Munich last year with a bronze medal performance.
The Spaniards were still celebrating in Heroes' Square when Dominik Cerny, 19th in the men's 35km race in 2:32:56, strode back to the finish line and got down on one knee. As the Slovakian's girlfriend Hana Burzacova crossed the line 28th in the women's race, he popped the question and presented her with an engagement ring. Happily, she said yes.
"I decided two days ago I was going to propose," said Cerny. "Why not in Budapest? We have been together for almost one Olympic cycle, almost four years. At the Paris Olympics maybe we will start as the Cerny family – in the new event, the race walk relay."
The Norse thoroughbred gets back on his horse
Less than 24 hours after his home-straight heartache in the men's 1500m final, Jakob Ingebrigtsen got back on the horse in defence of his world 5000m crown.
Content to bide his time at or near the back of the 22-man field for most of the opening first round heat, the 1500m silver medallist eased through to take third place behind Mohamed Katir of Spain (13:35.90) and Ethiopia's Hagos Gebrhiwet in 13:36.21.
Narve Gilje Nodas, the Norwegian teammate who claimed bronze behind the inspired Brit Josh Kerr and Ingebritsen in the 1500m final the previous night, almost missed the qualifying cut, holding on to eighth spot by 0.02 in 13:36.55.
Ingebrigtsen even kept his composure when Stewart McSweyn was tripped in front of him, coolly hurdling the Australian, who finished 19th but was advanced to the final.
The other heat was a curious affair, featuring what appeared to be not exactly friendly chat between Ethiopian trammates Berihu Aregawi and Yomif Kejelcha – and a shove in the back from Guatamala's Luis Grijalva after Kejelcha attempted to stretch away down the back straight on the final lap.
The dust settled with Grijalva crossing the line first (13:32.72), Kejelcha second, Canada's Mo Ahmed coming through for third and Aregawi fourth. Kenya's world U20 cross-country champion Ishmael Kipkirui and last year's silver medallist Jacob Krop squeezed through in the last two qualifying places as joint seventh.
Bolt-chaser Lyles survives unfortunate pre-race jolt
In his pursuit of a first world 100m-200m double since Usain Bolt in 2015, and a 200m hat-trick that only the great Jamaican has accomplished, Noah Lyles was obliged to endure a pre-race bolt from the blue.
The buggy taking the US sprinter from the warm up track to the call room for the 200m semi-finals was involved in a collision with another buggy. A volunteer was tipped out and Jamaican Andrew Hudson was visibly shaken.
Lyles simply carried on pinning his number to his vest. His semi was supposed to be first up but, sensibly, was switched to the last race. Lyles won in 19.76. Hudson was fifth in 20.38 but – having injured his eye in the collision – was given a discretionary place in the final.
Lyles' compatriot Kenny Bednarek edged 100m runner-up Letsile Tebogo of Botswana in what became the opening race, 19.96 to 19.97. Last year's bronze medallist, Erriyon Knighton of the US, also broke 20.00 in winning the other heat, clocking 19.98 ahead of Britain's 100m bronze medallist Zharnel Hughes (20.02)
Gabby Thomas was fastest in the women's 200m semis, the Olympic silver medallist from the US clocking 21.97 ahead of Britain's 2019 champion Dina Asher-Smith (22.28). St Lucian Julien Alfred won the second semi in 22.17, ahead of Brit Daryll Neita (22.21). In the loaded final heat, defending champion Shericka Jackson turned the tables on Sha'Carri Richardson, the US sprinter who beat her to 100m gold, the Jamaican prevailing 22.00 to 22.20, with Ivorian Marie-Josee Ta Lou progressing as a non-automatic qualifier in third (22.26).
Simon Turnbull for World Athletics