The German rider is inducted into the Hall of Fame on home turf at the Sachsenring
Hans-Georg Anscheidt is now a MotoGP™ Legend! The German was one of the most successful riders in the first decade of the 50cc World Championship and won three back-to-back World Championships in the class from 1966 to 1968.
Born in Königsberg (now Kaliningrad) in 1935, Anscheidt started riding Enduro in 1955 before switching to Speedway in 1957, then taking on the new challenge of 50cc circuit racing from 1959. After European level success, Anscheidt continued racing for Kreidler when the 50cc class officially debuted as a World Championship in 1962.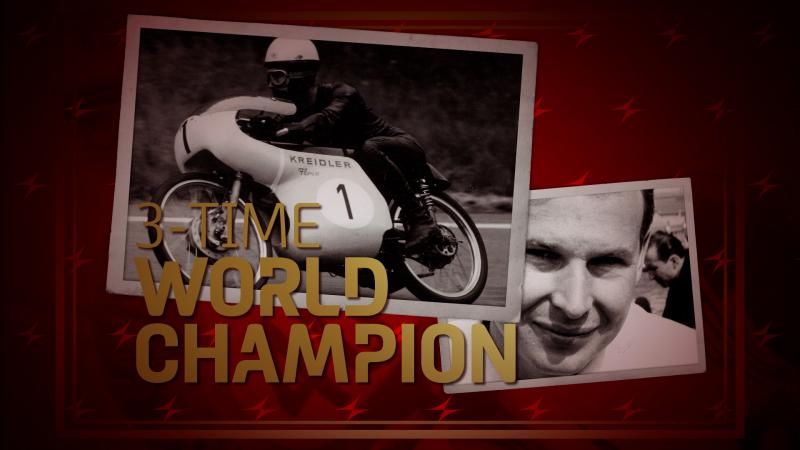 The best of MotoGP™ Legend Hans-Georg Anscheidt's career
He won the first race of the season at Montjuïc and took a second Grand Prix win at Monza in the Nations Grand Prix, finishing the year runner-up overall – a feat he repeated in 1963 as he added three more victories to his count. He then ended 1964 in third place overall, taking another win, before a tougher 1965 ahead of a switch to Suzuki.
That switch saw Anscheidt begin an incredible winning run. He took his first 50cc World Championship in 1966 and it didn't stop there as the German won an impressive three titles in a row from 1966 to 1968. Remarkably, the first two saw Anscheidt compete as a factory Suzuki rider, but in 1968 he won his final Championship as a privateer. With his name in the history books as a three-time World Champion and winner of 14 Grands Prix, Anscheidt retired as the reigning Champion at the end of 1968.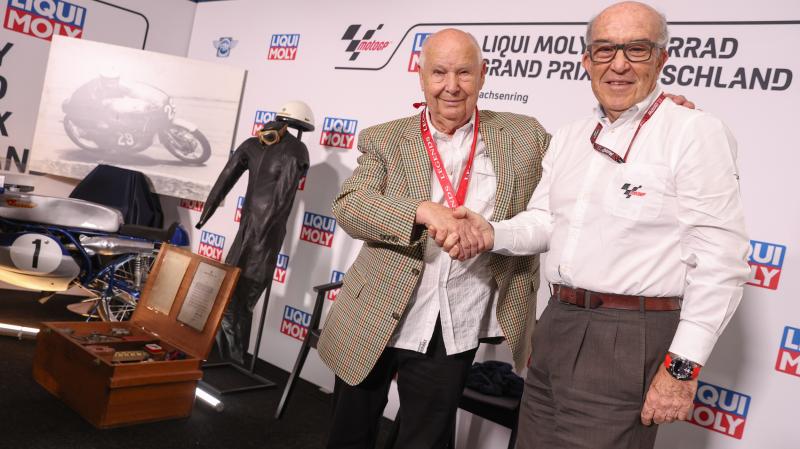 MotoGP™ Legend Induction: Hans-Georg Anscheidt
Now he joins a list of MotoGP™ Legends that includes Valentino Rossi, Giacomo Agostini, Hugh Anderson, Kork Ballington, Max Biaggi, Alex Crivillé, Mick Doohan, Stefan Dörflinger, Andrea Dovizioso, Geoff Duke, Wayne Gardner, Mike Hailwood, Nicky Hayden, Jorge Lorenzo, Daijiro Kato, Eddie Lawson, Marco Lucchinelli, Randy Mamola, Anton Mang, Jorge 'Aspar' Martinez, Angel Nieto, Dani Pedrosa, Wayne Rainey, Phil Read, Jim Redman, Kenny Roberts, Kenny Roberts Jr, Jarno Saarinen, Kevin Schwantz, Barry Sheene, Marco Simoncelli, Freddie Spencer, Casey Stoner, John Surtees, Luigi Taveri, Carlo Ubbiali and Franco Uncini.
Carmelo Ezpeleta, Dorna Sports CEO: "It's a special pleasure for me to meet today Hans-Georg Anscheidt, I was telling his son that I was especially happy because I had the chance to see him race in Spain in Montjuïc in 63 or 64, I was starting my great feeling for bikes and I remember the sound of the Suzuki, a lot of gearbox! I remember it so well. He was a very successful rider and it's a big honour to induct him into the MotoGP Hall of Fame."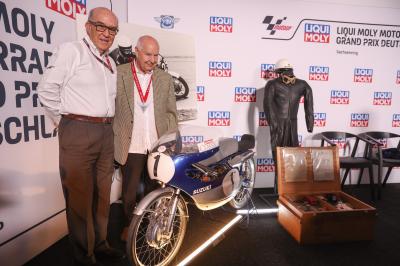 HANS-GEORG ANSCHEIDT as translated by his son, Achim Anscheidt: "When he started his career at the start of the 60s, it was in European races, the motorcycles were almost like racing mopeds doing a maximum of 100km/h. And then from 1961 it became more serious racing, international and in the European championship, and at the same time competing in the German championship. After beginning his career with offroad and dirt track, he signed a contract with the Kreidler factory from Stuttgart and became factory rider and a test rider from 1961 to 1964, and was second in the title in 1962 and 1963.
"In this time he was employed by Kreidler not only racing on roads, and also doing offroad and six-day trials and enduro. Kreidler then decided to stop factory road racing, against Suzuki and Honda they didn't have much chance. And then a very secretive Japanese person than put a Telegram in his hand telling him to contact the factory in Hamamatsu. And in six years he'd seen Mr Kreidler once. So he wrote a letter to him, saying can you please let me do this race. Suzuki wanted him to do the last Grand Prix of 1965 and Mr Kreidler said yes. And good luck! Then the Suzuki time began.
"He had a lot of success with Suzuki with the 50cc and 125cc machinery, but they always said they wanted me to do 50cc. The 50cc class was very challenging in terms of the technical development, almost like Group B rally development in the 1990s. Technology got so exotic and only Suzuki and Honda really were able to produce it. The motorcycle is mostly titanium, the frame is aluminium, two cylinders and a 14-speed gearbox, with a usable rev range between 17,500 and 18,000.
"He became World Champion in 1966 and 1967, but Suzuki decided to withdraw. So my father asked nicely if he could have a bike and spares, and Suzuki granted it him. It was raced by Katayama in 1967, it had a terrible accident and went back to Japan. They repaired it there and then they decided to give it to my father to race it in 1968 and become a privateer World Champion.
"He is very thankful to Dorna and the management for giving him the chance to be here, and that he was able to invite his family. So thank you, thank you very much." – www.motogp.com