Under Armour Applied Science, Testing and Insights from a Breast Health Expert to Evolve the Sports Bra
Did you know the female breast can move as much as 21cm during exercise? Or that when it comes to sports bras, wearing the wrong one can cause permanent damage? UA is changing the sports bra game with our newest innovation that addresses both of these issues and functions to support women's unique bodies and needs.
To create the UA Infinity Bra, Under Armour pressure tested with breast health expert Dr. Joanna Scurr and the University of Portsmouth in the UK to create a perfectly fitting bra designed to work with women's bodies in a new way, using a unique approach. Rather than cutting two perfect breast-shaped cups from a flat piece of padding, glueing and layering pieces of foam – the traditional sports bra construction – Under Armour's design team liquid-injected the foam for a more natural shape that moves with the breasts, and a much lighter feel.
The flexible cups are designed to offset impact across all impact levels and naturally mold to the female body, even during its natural fluctuations. The liquid foam follows in an infinity shape – the shape breasts actually move in during jumping and running – and provides the right level of support without sacrificing comfort and breathability.
"A lot of people don't notice, but when you're running or working out, your breasts don't just move up and down, they also move from side to side and in and out. When the designers at Under Armour made The Infinity Bra, they took those natural movements into consideration and made a product that works with the female body," quoted, Dr. Joanna Scurr, Head of Biomechanics Testing Facility at University of Portsmouth.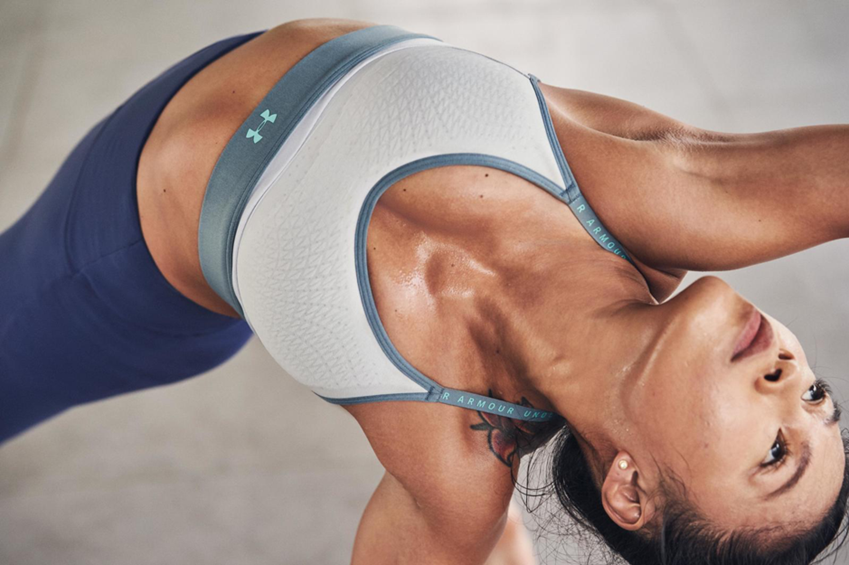 The UA Infinity Bra is designed for all impact levels and is built to work with the natural movement of a woman's body instead of fighting against it, as traditional sports bras often do. This creates a more natural fit, and without bulky cups, a lighter feel and completely streamlined support that finally lets women push as hard as they want without having to worry about the pain and distraction of unchecked movement. The cored-out pads in the front of the bra are actually visible through the mesh, a specially designed perforated pattern to be super breathable and light without losing its integrity.
"These days, women have so many bras to choose from and they constantly feel like they need to make trade-offs between a comfortable bra and a bra that performs for her. When creating the UA Infinity Bra, we wanted to develop a bra that women could trust 100% of the time. We abandoned the traditional sports bra construction and decided to start from scratch and to explore various fits, materials and construction techniques to make something completely revolutionary for all body types," quoted Morgan Goerke, VP/GM, Women's Training & Girls at Under Armour.
The UA Infinity sports bra features some of UA's most advanced fabric innovations to make it the lightest and fastest-drying UA sports bra available. The bra is made with adjustable and flexible straps to make the on-off process hassle-free while still providing unparalleled support. 
The UA Infinity Sports Bra will be available for RM 149 – RM 259 in sizes XS – XL, across all Under Armour Brand Houses nationwide and online at (https://www.underarmour.com.my/en-my/).