Delve into a bunch of stats about the Frenchman's maiden Grand Prix World Championship crowning
6 – Fabio Quartararo is the sixth-youngest rider to clinch a premier class world title, aged 22 years, 187 days on race day of the Emilia Romagna GP, behind John Surtees (22 years, 182 days) and ahead of Valentino Rossi (22 years, 240 days).
3 – In the MotoGP™ era, Quartararo is the third-youngest rider to do so behind Marc Marquez (20 years, 266 days) and Casey Stoner (21 years, 342 days).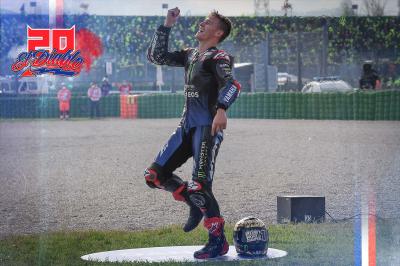 1 – In addition, Quartararo became the youngest Yamaha rider to clinch the premier class world title ahead of Jorge Lorenzo who was 23 years, 159 days old when he took the title in Malaysia back in 2010.
1 – Quartararo became the first French rider to clinch a premier class world title and the seventh overall in GP racing along with Johann Zarco (2 titles), Mike Di Meglio (1), Arnaud Vincent (1), Olivier Jacque (1), Christian Sarron (1) and Jean-Louis Tournadre (1).
7 – France became the seventh different nation to clinch a premier class world title.
16 – Overall, Quartararo became the 16th rider to do so along with Les Graham, Umberto Masetti, Libero Liberati, Barry Sheene, Kenny Roberts, Marco Lucchinelli, Franco Uncini, Eddie Lawson, Wayne Gardner, Wayne Rainey, Kevin Schwantz, Mick Doohan, Kenny Roberts Jr., Nicky Hayden and Casey Stoner.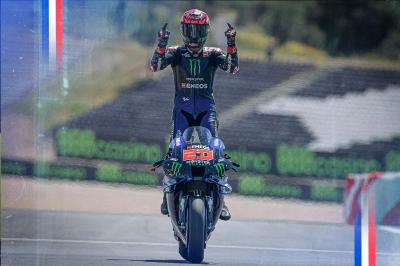 3 – In the MotoGP™ era, Quartararo became the third rider to clinch the title without having previously taken a title in one of the smaller classes along with Nicky Hayden and Casey Stoner.
9 – By clinching the MotoGP™ title, Quartararo stopped a sequence of nine premier class titles from Spanish riders: six with Marc Marquez, two with Jorge Lorenzo and one with Joan Mir (the longest sequence for a county in the class).
18 – Quartararo became the first Yamaha rider to take the premier class world title since Jorge Lorenzo back in 2015 and the seventh overall along with Giacomo Agostini (1 premier class title), Kenny Roberts (3), Eddie Lawson (3), Wayne Rainey (3), Valentino Rossi (4) and Jorge Lorenzo (3). This is the 18th title of a Yamaha rider in the premier class.
6 – Quartararo is tied in sixth place with Max Biaggi and Maverick Viñales in the list of Yamaha riders with the most premier class wins behind Kenny Roberts (22 wins). Valentino Rossi leads the way with 56 premier class wins with Yamaha.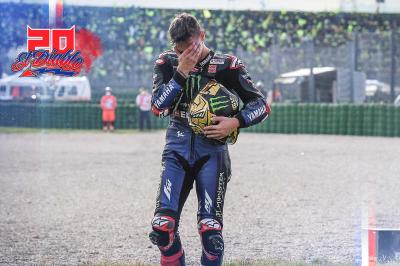 20 – With 20 premier class podiums so far, Quartararo is the French rider with most podiums in the class ahead of Christian Sarron (18 podiums).
8 – With eight premier class wins so far, since his maiden premier class wins at the 2020 Spanish GP, Quartararo has almost tripled the number of French victories before him (one for Regis Laconi, Christian Sarron and Pierre Monneret).
10 – This season Quartararo has stood on the MotoGP™ podium more than any other rider (10 times), including five wins. This is the first time that a Yamaha rider scored five (or more) premier class wins since Jorge Lorenzo in 2015 (seven wins). The last Yamaha riders with more than 10 podiums in a single season were Valentino Rossi (15 podiums) and Jorge Lorenzo (12) in 2015.
7 – For the seventh successive year, the rider who clinched the premier class world title failed to win the opening race of the season. The last to do so was Marc Marquez in 2014.