The Thriller cashed in on Fabio Quartararo's issues to take a first MotoGP™ victory since the 2016 Dutch TT
He was written off and slated from every angle after a turbulent start to 2021. But Jack Miller (Ducati Lenovo Team) silenced every single one of those critics by shocking the two-wheeled world and taking an unlikely win at the Red Bull Spanish Grand Prix on Sunday.
The Australian was the ultimate opportunist as he pounced all over a serious problem that saw Fabio Quartararo (Monster Energy Yamaha MotoGP) fall from a comfortable two second lead to outside the top ten in just a handful of laps. Joining Miller on the podium was new MotoGP™ World Championship leader Francesco Bagnaia, making it the first Ducati 1-2 in three years, and Petronas Yamaha SRT's Franco Morbidelli.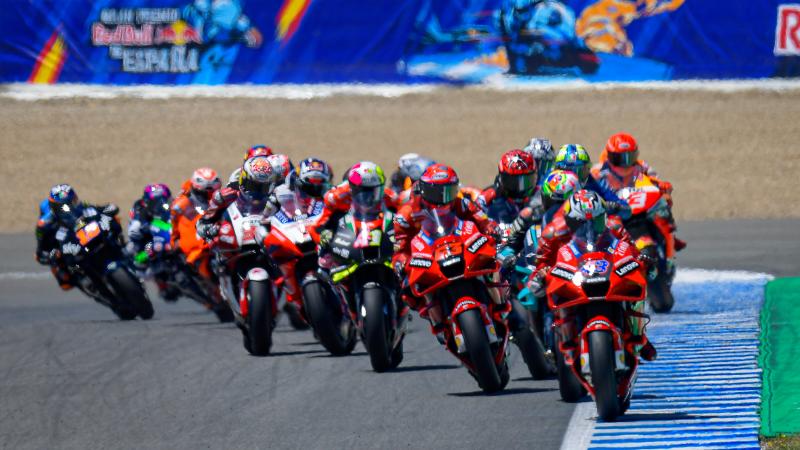 Red Bull Spanish Grand Prix: MotoGP™ Race 02/05/2021
Starting from the outside of the front row, Miller grabbed the holeshot as poleman Quartararo went backwards off the line. The Frenchman was swamped into the first corner and found himself down in fourth, just ahead of Aprilia Racing Team Gresini's Aleix Espargaro who had a strong start to find himself in fifth. Down the back straight for the first time then and it was Miller who lead the way from Morbidelli and Bagnaia.
LCR Castrol Honda's Alex Marquez crashed out on the opening lap to make it three DNFs in the first four races of 2021 for the HRC man. He was joined in the Jerez gravel by Red Bull KTM Factory Racing's Brad Binder, who crashed out at the start of Lap 2. At the front, Bagnaia and Quartararo began to swap places time and time again over third. First, the Frenchman moved up the inside in the opening sector before the Bologna bullet of Bagnaia motored back past down to Turn 6. Then, for a second time, Quartararo got in front of Bagnaia, this time at the final corner before going defensive into the first corner to make sure it stayed like that.
On Lap 3 we had faller three of the Spanish GP as Alex Rins (Team Suzuki Ecstar) made it a fortnight to forget with a second consecutive crash. The Suzuki man was wide at Turn 6 and the front-end washed away to end his Jerez hopes. Further forward, Quartararo dived up the inside of former teammate Morbidelli for second, with Aleix Espargaro finding a way through on Bagnaia for fourth at the same time.
El Diablo's plan was coming along nicely as he hit the front with an inch-perfect move on Miller into the final corner. Alarm bells were surely ringing for Morbidelli in third as the factory Yamaha man put the hammer down immediately and stretched out four tenths over the Australian in the space of a lap. A new lap record around the Circuito de Jerez – Angel Nieto a lap later and Round 4 of the MotoGP™ World Championship was following the 22-year-old's script to a tee.
The Australian has admitted in recent weeks that he's been in the trenches following a disappointing start to the year, but he was certainly gritting his teeth and digging in here. Quartararo was only able to be a tenth quicker than the Ducati man with the gap at three quarters of a second with seven laps completed. As Quartararo edged his lead out to over a second for the first time, Aleix Espargaro slipped a place back to fifth after falling into the crosshairs of Bagnaia's Ducati down the back straight. As one Ducati rider moved forward, another crashed out: rookie Enea Bastianini hit the deck at Turn 2 – his first DNF of the year.
Bagnaia had seen off the close attention of Aprilia's Espargaro and had attached himself on to the rear wheel of Morbidelli's A-Spec Yamaha M1. His first look up the inside came down the hill into Turn 6, but no way through. Binder then suffered his second crash of the day having remounted earlier; MotoGP™'s Mr. Sunday having an atypical afternoon in Andalucia. The pair of VR46 Academy partners continued to be inseparable in the fight for the final podium place, before Bagnaia finally got his own way at the final corner. He capitalised on a mistake from the Petronas man perfectly.
Suddenly at the front, it wasn't the plain sailing we've become accustomed to for Quartararo. The Frenchman's lead was cut from nearly two seconds down to nothing in the space of just one lap. It was well and truly game on for Spanish GP glory with ten laps remaining. Incredibly, Miller then took the lead down the start-finish straight to start Lap 16 of 25, with an unknown error surely halting Quartararo's progress. In the space of half a lap, the Australian was half a second clear. Bemusement was etched across the faces of everybody watching the drama in Jerez as Quartararo began dropping like a stone.
Miller was 1.5 seconds clear in the blink of an eye. Quartararo behind was nearly a second slower than Bagnaia and Morbidelli and hopes of a podium finish had evaporated. He was a sitting duck as both the Ducati and Yamaha men scythed through. They were queuing up behind the World Championship leader soon and with seven laps to go Nakagami, Mir and Espargaro all pushed their way past to demote him down to seventh – Espargaro the key loser in that fight as the Aprilia man lost out to both Nakagami and Mir whilst being held up by factory Yamaha man.
Five laps of a remarkable Spanish Grand Prix were remaining and Quartararo was pushed outside of the top ten by Pol Espargaro; a statement that was unthinkable just ten minutes earlier. A couple more laps ticked by and surely there wasn't going to be yet more drama as Miller's lead was cut down to just a second by teammate Bagnaia. Could the Thriller hold on for a first Ducati victory? They were a nervy final few laps but the number 43 held on and, for the first time since the 2016 Dutch TT, Miller took the chequered flag of a MotoGP™ race – Ducati's first in Jerez for 15 years.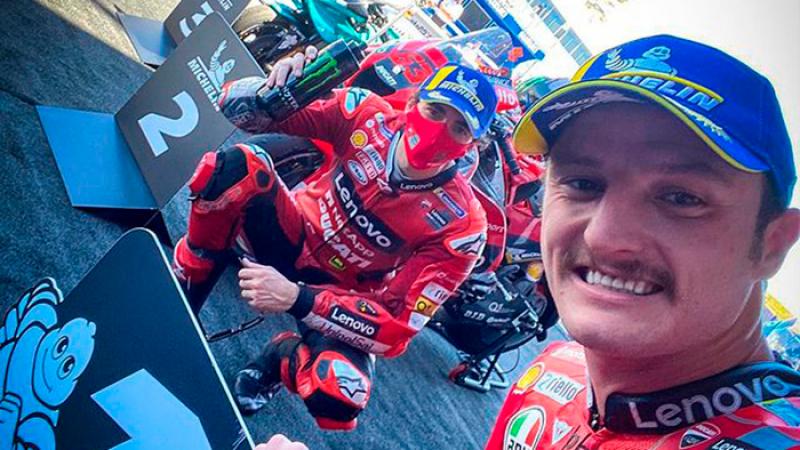 "I'm a flood of emotions"- MotoGP™ podium first words 02/05/2021
There were huge grins on Ducati's three wise men of Dall'Igna, Tardozzi and Ciabatti when Bagnaia came across the line in second too. A first 1-2 for Ducati in just under three years and the first they've ever had at Jerez. There was huge delight for Morbidelli in third as well – another man to silence some doubters. The Italian thumped his chest with joy and declared it "as good as a victory" in Parc Ferme afterwards. There was yet more Jerez delight for Takaaki Nakagami as the LCR Honda Idemitsu man matched his career-best MotoGP™ result with fourth place. The Japanese rider saw off a late charge from World Champion Joan Mir (Team Suzuki Ecstar), who was forced to settle for fifth.
Aprilia finished the closest they have ever been to a MotoGP™ race winner but it's hard not to think it was a missed opportunity for Aleix Espargaro. The Spaniard coming home in sixth place, only 5.164 seconds adrift of Miller. Monster Energy Yamaha MotoGP's Maverick Viñales clinched seventh place, ahead of Pramac Racing's Johann Zarco in eighth. Repsol Honda's Marc Marquez bounced back from his Warm Up crash to take a commendable ninth place. The final place inside the top ten went to the eight-time World Champion's teammate Pol Espargaro.
Quartararo eventually limped home in thirteenth and, as a result, surrendered the lead of the MotoGP™ World Championship. As we head to Le Mans for Round 5, Bagnaia leads the premier class title chase for the first time in his career but has just a two point lead over what will be a fired-up Frenchman on home soil next time out.
Top ten:
1. Jack Miller (Ducati Lenovo Team)
2. Francesco Bagnaia (Ducati Lenovo Team) + 1.912
3. Franco Morbidelli (Petronas Yamaha SRT) + 2.516
4. Takaaki Nakagami (LCR Honda Idemitsu) + 3.206
5. Joan Mir (Team Suzuki Ecstar) + 4.256
6. Aleix Espargaro (Aprilia Racing Team Gresini) + 5.164
7. Maverick Viñales (Monster Energy Yamaha MotoGP) + 5.651
8. Johann Zarco (Pramac Racing) + 7.161
9. Marc Marquez (Repsol Honda Team) + 10.494
10. Pol Espargaro (Repsol Honda Team) + 11.776