Four Ducatis in the top six, Mir and Quartararo outside top 10 and 0.7 covering top 19 – MotoGP™ was in full swing on Friday in Valencia
Just like he did at the European Grand Prix, Pramac Racing's Jack Miller leads the MotoGP™ field into qualifying day at the Gran Premio Motul de la Comunitat Valenciana after the Australian left it late to beat Takaaki Nakagami (LCR Honda Idemitsu) to top spot on Friday. Miller's 1:30.622 in the afternoon session saw him beat the Honda of Nakagami by 0.091 seconds as Francesco Bagnaia (Pramac Racing) claims P3, 0.120 seconds adrift from his teammate. Joan Mir (Team Suzuki Ecstar) and Fabio Quartararo (Petronas Yamaha SRT) are P12 and P16 after Day 1.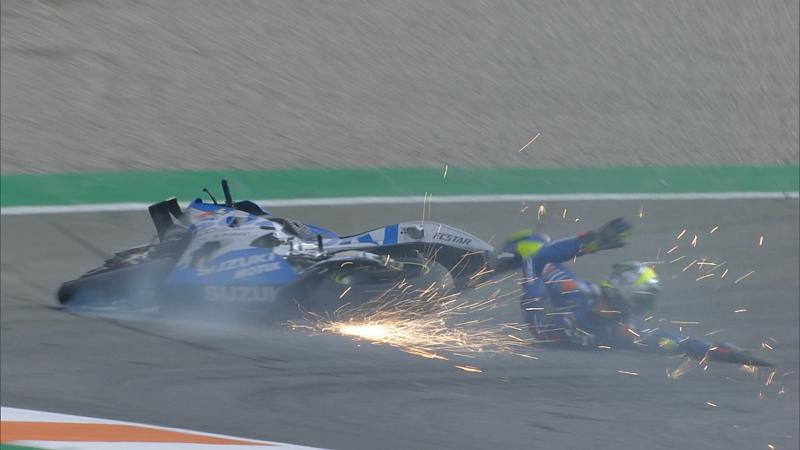 Mir starts Match Point weekend with a rare crash at Turn 4 13/11/2020
An immediate flurry of fast times were slammed in at the start of MotoGP™ FP2 as yet more dry track time greeted the premier class, with Johann Zarco (Esponsorama Racing) leading the early stages of the afternoon session from title race leader Mir. These laps saw the Frenchman and Spaniard go fifth and six on the combined times to get within three tenths off Nakagami's pace from FP1.
Plenty of the riders went quicker in the first 20 minutes, but not the leading quartet on the combined standings: Nakagami, Franco Morbidelli (Petronas Yamaha SRT), Maverick Viñales (Monster Energy Yamaha MotoGP) and Pol Espargaro (Red Bull KTM Factory Racing). The times were so close though, 0.7 seconds were splitting Nakagami and 17th place Quartararo with 20 minutes to go on Day 1. The margins – as always in MotoGP™ – were incredibly fine.
Soon though, Nakagami raised the stakes. On the soft rear tyre, the Japanese rider chucked in a 1:30.713 to go two tenths clear on the combined times, and 0.340 clear in FP2. Fellow Honda rider Alex Marquez (Repsol Honda Team) wasn't faring so well though. After a crash at Turn 2 early on, the number 73 was down again – this time at the notorious Turn 4. The double 2020 podium finisher was unhurt but with less than 15 minutes to go, it was a crucial time to be out on track.
Then, drama for the rider who has a match point this weekend. Mir was down, thankfully unhurt, at Turn 4 as the left-hander bit two Spaniards in quick succession. However, it wasn't long before Mir had his leg over his second GSX-RR with eight minutes to go in the session, and it was time attack time.
Alex Rins (Team Suzuki Ecstar) shot up to sixth in the session and 7th on the overall times, before Stefan Bradl (Repsol Honda Team) then climbed into the top seven. Rins went better again to go P4 on the combined times as Andrea Dovizioso (Ducati Team) joined fellow Ducati rider Zarco inside the top three, before Pol Espargaro shoved the Italian down to P4. It was all happening with just over a minute to go. Bagnaia launched up to P2 but just behind the Italian on circuit, Quartararo wasn't quite in the groove. The Frenchman was 15th with less than a minute remaining, meanwhile, Miller was flying and the Australian went fastest as the chequered flag waved.
Crucially, Mir was sitting outside the combined top 10 and his final flyer wasn't going to change that. Viñales was another improver on his last lap and Cal Crutchlow (LCR Honda Castrol) then chucked in his best time of the weekend so far to go P7.
A relatively quiet FP2 burst into life in the final 10 minutes as the order changed dramatically. Miller, just as he was seven days ago, leads the premier class field on Friday at the Circuit Ricardo Tormo thanks to his late time. Nakagami enjoyed his Friday to end P2, slipping a place from FP1, with Bagnaia joining his teammate in the top three. The Italian was P19 after FP1, a solid afternoon session sees the future Ducati Team rider climb to the timing screens.
European Grand Prix polesitter Pol Espargaro ends Day 1 in P4, staying inside the top four as the KTM star looks bang in form ahead of qualifying. Zarco also had a handy FP2 session to finish Friday in P5, the Frenchman picks up one place from his P6 finish in FP1. Dovizioso and Crutchlow – two outgoing riders at the end of the season – claimed P6 and P7 respectively, their two laps saw Morbidelli get demoted to P8 as the Italian and Viñales are the only two riders to not go quicker in the afternoon. Rins finished P9 – the only Suzuki inside the top 10 – as Viñales currently sits in the final top 10 spot, just 0.346 away from Miller.
So then, how much did that crash affect Mir's day? Well, a P12 isn't ideal for the Championship leader which means he's got some work to do on Saturday morning – if it's dry. Quartararo was seven tenths slower than Miller and finds himself lingering in P16, two of the main title contenders are heading for Q1 as things stand.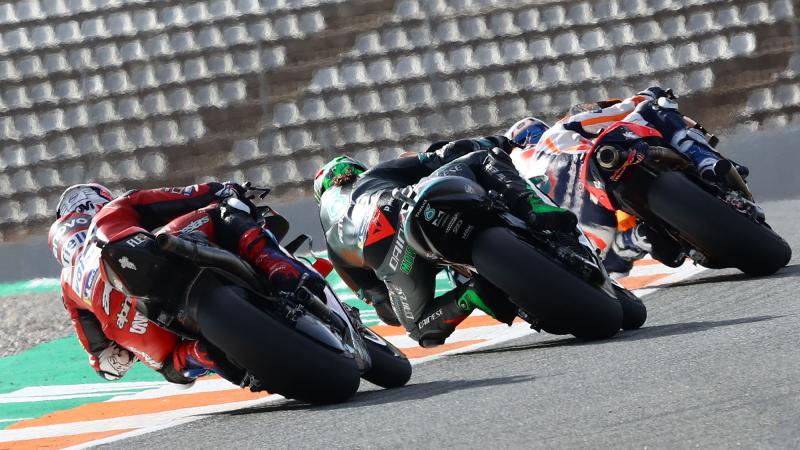 Round 14: MotoGP™ FP2 at the Valencia Grand Prix 13/11/2020
A busy Saturday morning is coming our way, but will it be dry? Wet weather isn't on the forecast but it wasn't last weekend either on qualifying day – and look what happened. Mir and Quartararo won't want to contend in Q1, so expect fireworks in FP3 at 10:55 local time (GMT+1). – www.motogp.com
Top 10 combined:
1. Jack Miller (Pramac Racing) – 1:30.622
2. Takaaki Nakagami (LCR Honda Idemitsu) + 0.091
3. Francesco Bagnaia (Pramac Racing) + 0.120
4. Pol Espargaro (Red Bull KTM Factory Racing) + 0.199
5. Johann Zarco (Esponsorama Racing) + 0.277
6. Andrea Dovizioso (Ducati Team) + 0.304
7. Cal Crutchlow (LCR Honda Castrol) + 0.308
8. Franco Morbidelli (Petronas Yamaha SRT) + 0.322
9. Alex Rins (Team Suzuki Ecstar) + 0.325
10. Maverick Viñales (Monster Energy Yamaha MotoGP) + 0.346