motogp.com delves into what tech innovations and developments we've witnessed up to the halfway stage of the season from each factory
As we've approached the summer break and are halfway point of the 2021 MotoGP™ season, we thought it would be a good idea to have a recap of the technical developments we've seen from each factory.
Tech updates are now a crucial part of a MotoGP™ World Championship campaign as every factory works tirelessly to try and create the fastest bike possible. Some things brought to the track don't work, other parts go down a treat. But what are the main things we've seen so far this season? Let's take a look at six factories in order of current Championship position. 
This year, the Iwata factory riders of Fabio Quartararo, Monster Energy Yamaha MotoGP teammate Maverick Viñales and Valentino Rossi (Petronas Yamaha SRT) are riding a new YZR-M1. Yamaha took a step back to go forwards after a trying 2020, with the 2021 chassis much more like the 2019 bike.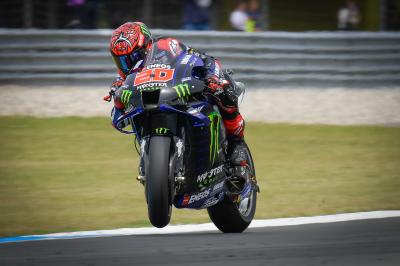 Other than the chassis, we've not seen a lot of new tech innovates or updates from Yamaha. The main one has been the front holeshot device that we first witnessed – and used to great effect by Quartararo – at the Italian Grand Prix, which gave Yamaha's riders the same advantage as Aprilia, Ducati, Honda and KTM off the start line.
Other than that, Yamaha have used a new front fender for aero and tyre cooling purposes, to stop tyre pressures increasing too much.
Rightly dubbed as the kings of technical innovations in MotoGP™, Ducati's guru Gigi Dall'Igna and his team are consistently leading the way when it comes to tech upgrades.
Visually though, in 2021, Ducati's GP21 isn't too dissimilar to their 2020 bike. The 'salad box' at the back of the bike, which houses a mass damper, has changed shape slightly. In addition, the Bologna factory have brought some new aero to the table at the bottom of the side fairings, which is thought to have been a creation to explore the possibility of ground effect in MotoGP™, to help turn the bike.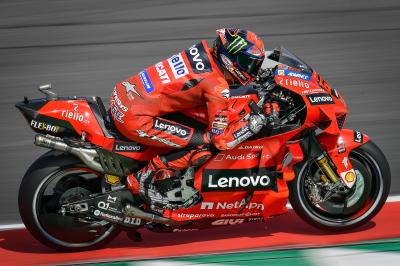 Ducati have been using a front holeshot device all season, and the Italians also have a very, very slightly different air intake that we've spotted a few riders trying. When we say very slightly different, it really is minimal changes.
Always keep a keen eye on the Ducatis, with MotoGP™ pitlane reporter Simon Crafar always on the ball and bringing you the latest tech upgrades from the ground.
The current World Champions are the only team to not have both the front and rear holeshot devices so far in 2021. Reigning King of MotoGP™ Joan Mir (Team Suzuki Ecstar) has admitted he and the team are pushing the factory all the time to try and bring the rear holeshot device to the track, as it's costing his title defence.
Suzuki's Mir and Alex Rins were testing a new chassis in pre-season but didn't get enough time on it to properly evaluate whether it was better or not. Sticking with the 2020 bike – that worked so well last season – has seen them struggle slightly more than anticipated, with other factories – namely Yamaha, Ducati, Aprilia and now KTM – making big strides forward in 2021. A slightly updated aero package has been seen too on the GSX-RRs, but there's minimal difference compared to the previous one.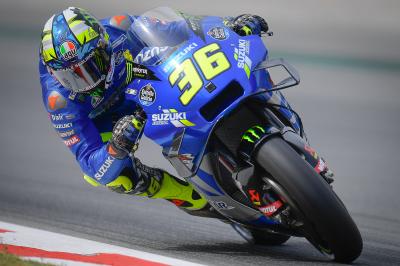 Some of the biggest news surrounding Suzuki during the pre-season and in-season tests this year has been the 2022 engine testing. Mir and Rins both tried it at the Qatar Test and test rider Sylvain Guintoli said at the Catalan Test that Suzuki have reached a decision on what engine they're going to use next season, as they and Yamaha aim to bridge their top speed deficits.
It's no secret that KTM's fortunes in 2021 swung completely when they introduced a new chassis at Mugello, which helped Miguel Oliveira and Red Bull KTM Factory Racing teammate Brad Binder stop and turn the bike better. Pit Beirer called it a "new generation" of RC16s, and the results since have certainly returned to what we were used to seeing in 2020.
Lauded test rider Dani Pedrosa and the Austrian factory's test team have been hard at work developing the RC16 for now and the future, which includes a new chassis, new exhausts, new seat unit and new swingarm. Oliveira and Binder were tight lipped about it at the Catalan Test, but it's exciting times for KTM and their riders.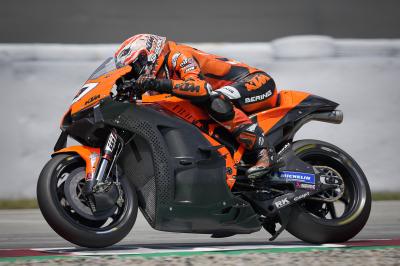 Also seen at the Catalan Test was a new aero fairing that featured small holes all the way down the side of two small sets of wings, further back on the fairing than we've seen before.
As has been well documented, Aprilia's 2021 RS-GP is a completely new bike: new chassis, new engine, new 'salad box', new exhausts, new aero… it's all new!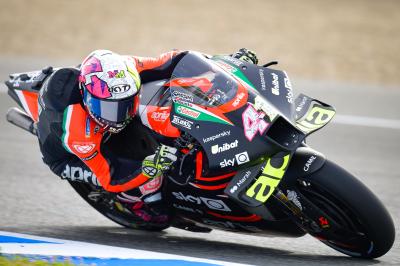 The RS-GP has taken a huge leap forward in both performance – shown by Aleix Espargaro's (Aprilia Racing Team Gresini) eighth place in the Championship – and reliability. It turns and handles exceptionally well, but compared to the other V4s – Ducati, Honda and KTM – it's a little down on horsepower.
Aprilia were the opposite of Ducati, Honda, KTM and Yamaha in the fact that they already had a front holeshot device. What the Noale factory didn't have was the rear holeshot device, so that's what they've brought to the table this year. All five of these manufacturers have front and rear holeshot devices now.
Moreover, Aprilia have debuted a new front mudguard this year. What exactly for is unclear, but one of the reasons could be to make the airflow as smooth as possible.
Where to start with MotoGP™'s most successful manufacturer. In total, Honda have used three different chassis in 2021. These are: the 2021 chassis which has a big section of carbon bonded onto the main beam, the 2020 chassis that Marc Marquez (Repsol Honda Team) has been riding for most of the year, and the new chassis that both Pol Espargaro (Repsol Honda Team) and Marc Marquez raced at Assen – this is the same chassis Stefan Bradl tested at the Circuito de Jerez-Angel Nieto in January.
Aforementioned, Honda have brought a front holeshot device to the party, as well as some new aero that was unveiled at the Sachsenring. The aero update came after Honda had initially tried five different aero packages earlier in the year, with the Japanese giants carefully figuring out which one worked best.
During the Jerez Test and then seen again at the Catalan Test, Honda have been running a bike that sports a completely new air intake – always on a blacked-out RC213V. It's something to look out for in the future, especially at the end of the season as 2022 pre-season testing begins.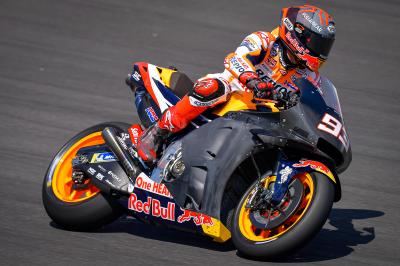 A small difference between Marc Marquez and Pol Espargaro's bikes has also been the exhaust. The number 93 has an older spec exhaust that you can tell apart from Espargaro's bike as it's got a larger diameter tip.
MotoGP™ factories are always working tirelessly behind the scenes to squeeze every last ounce of speed out of their packages throughout the season, as work for 2022 is also in full flow. Head over to MotoGP™'s Tech Facebook group to get the latest on anything new seen on track, as well as tuning in to all the sessions live on VideoPass as Crafar casts his expert eye on all the bikes in pitlane. – www.motogp.com